Levenhuk TT35 Tabletop Tripod
Height: 25.5–35cm (10–14in). Load capacity: 8kg (18lbs)
The Levenhuk TT35 Tabletop Tripod is excellent for any optical tools with a standard 1/4" thread and weighing up to 8kg (18lbs): binoculars, spotting scopes, telescope tubes, cameras, and more. The wide metal legs with plastic tips make this accessory steady and slip-proof even on a smooth surface.
Levenhuk TT35 is a compact tripod that will not take up much space at home or on the road. This model is easy to operate: the head is moved along the vertical and horizontal axes with the help of a control lever. A retractable metal bar allows for adjusting the tripod's height within a 10cm (4in) limit.
Some optical tools may require a special adapter (purchased separately).
Features:
Stable tabletop tripod for any optical tool weighing up to 8kg (18lbs)
Standard 1/4" thread
Minimum of plastic elements
Retractable metal bar for height adjustment
Bright gift box
Specifications
Tripod type
tabletop
Pitch number
1
The largest pipe diameter, mm
23
Height, cm
25.5–35
in
10–14
Load capacity, kg
8
lbs
18
Tripod material
metal
Head (mount) material
metal
Head
pan & tilt
Thread
1/4"
Contraction height, cm
32
in
13
Levenhuk TT35 Tabletop Tripod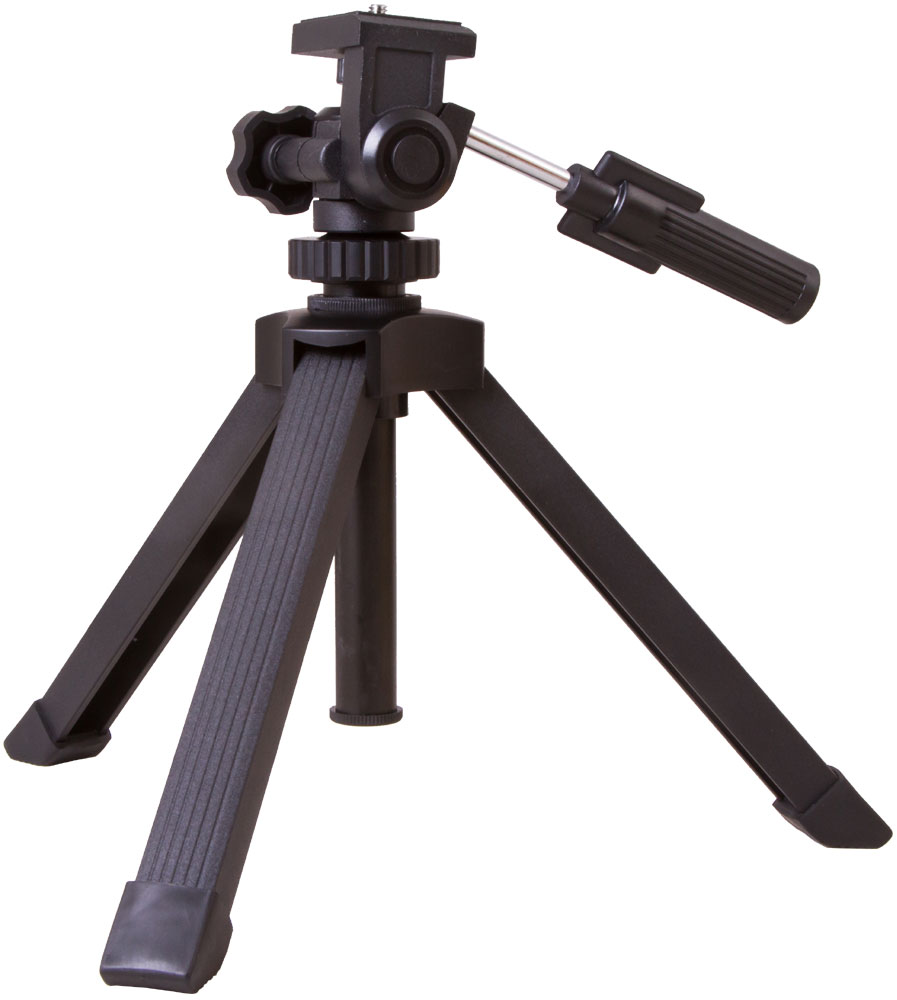 The Levenhuk TT35 Tabletop Tripod is excellent for any optical tools with a standard 1/4" thread and weighing up to 8kg (18lbs): binoculars, spotting scopes, telescope tubes, cameras, and more. The wide metal legs with plastic tips make this accessory steady and slip-proof even on a smooth surface.Levenhuk TT35 is a compact tripod that will not take up much space at home or on the road. This model is easy to operate: the head is moved along the vertical and horizontal axes with the help of a control lever. A retractable metal bar allows for adjusting the tripod's height within a 10cm (4in) limit.Some optical tools may require a special adapter (purchased separately).Features:Stable tabletop tripod for any optical tool weighing up to 8kg (18lbs)Standard 1/4" threadMinimum of plastic elementsRetractable metal bar for height adjustmentBright gift boxSpecificationsTripod typetabletopPitch number1The largest pipe diameter, mm23Height, cm25.5–35in10–14 Load capacity, kg8lbs18 Tripod materialmetalHead (mount) materialmetalHeadpan & tiltThread1/4"Contraction height, cm32in13