"See it all!" Astronomer's Handbook
Paperback. Information on 280 celestial objects. Colorful images, detailed star charts, commentaries
---
Product ID
60974
Brand
Warranty
2
EAN
5905555010380
Package size (LxWxH)
28.5x20.5x0.3
Alexander Shimbalev wrote a very useful handbook for beginning astronomers; it contains information on many aspects of astronomy. It is an easy read, without too many technicalities, that explains everything you need to know about your telescope and the cosmos in general.
The chapters follow each other logically, and thanks to the colorful illustrations (star charts and photographs of constellations, galaxies, nebulae, planets, etc.), this book is well-suited even for children.
What's inside:
From the first few chapters, you will learn about astronomy and celestial observations and will find out more about telescopes and their design. This will aid you in your next purchase of a telescope.
The later chapters provide you with detailed information about the celestial sphere itself, 280 objects for observations, commentaries, and images. The solar system planets and their satellites, deep-sky nebulae, and star clusters are all listed here with recommendations on observations, along with info about the navigation and the best telescope for the job.
After you read this book, the night sky will no longer be a mystery to you, and you will navigate across the expanse of the universe as if you had been doing it all your life.
Additional information:
Author: A.A. Shimbalev
Published in 2011–2017
87 pages
Paperback
Published with the help of Levenhuk
Usage: General use product. May be used by kids over 10 years old.
Specifications
for children, for pupils and students, for adults
"See it all!" Astronomer's Handbook
https://levenhukb2b.com/catalogue/other/books-charts-and-posters/see-it-all-astronomers-handbook/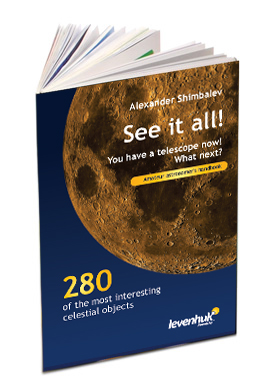 60974
Levenhuk, Inc., USA
0.28
Base color
0.3
20.5
28.5
Books, Charts and Posters
60973
Levenhuk, Inc., USA
0.28
Base color
0.3
20.5
28.5
Books, Charts and Posters
60975
Levenhuk, Inc., USA
0.28
Base color
0.3
20.5
28.5
Books, Charts and Posters
62537
Levenhuk, Inc., USA
0.28
Base color
0.3
20.5
28.5
Books, Charts and Posters
29372
Levenhuk, Inc., USA
0.28
Base color
0.3
20.5
28.5
Books, Charts and Posters
71176
Levenhuk, Inc., USA
0.28
Base color
0.3
20.5
28.5
Books, Charts and Posters
72249
Levenhuk, Inc., USA
0.3
Base color
0.3
20.5
28.5
Books, Charts and Posters
68688
Levenhuk, Inc., USA
0.28
Base color
0.3
20.5
28.5
Books, Charts and Posters
74863
Levenhuk, Inc., USA
0.28
Base color
0.3
20.5
28.5
Books, Charts and Posters