Oklop Padded Bag for 150/750 Newtonians
A bag for storing and moving Newtonian telescopes. Size: 72x25x35 cm
Oklop Padded Bag for 150/750 Newtonians will be your indispensable assistant anytime you want to transport your telescope, take it somewhere away from the city lights or store it conveniently. This stylish and lightweight bag is made of shiny polyester. This water-repellent material firmly protects the telescope from dust and moisture; it is durable and easy to clean. The carabiners and rings are metal, which guarantees long time use.
This model fits the telescope tube with rings and a dovetail bar, and has a special integrated pocket for a focuser. Featuring a cylindrical shape, the bag keeps the telescope and its parts from wobbling.
The shoulder strap is wide and convenient. It is also removable, so you can detach it and use the handles. Like other Oklop models, the Oklop Padded Bag for 150/750 Newtonians has 10 mm foam rubber padding that helps it hold its shape and protects the equipment from mechanical damage.
You can carry the bag on your shoulder or in your hand – it will be perfectly balanced either way.
| Material: | shiny black polyester, water repellent, silk inner lining |
| --- | --- |
| Dimensions: | 72x25x35 cm |
| Weight: | 0,81 kg |
Oklop Padded Bag for 150/750 Newtonians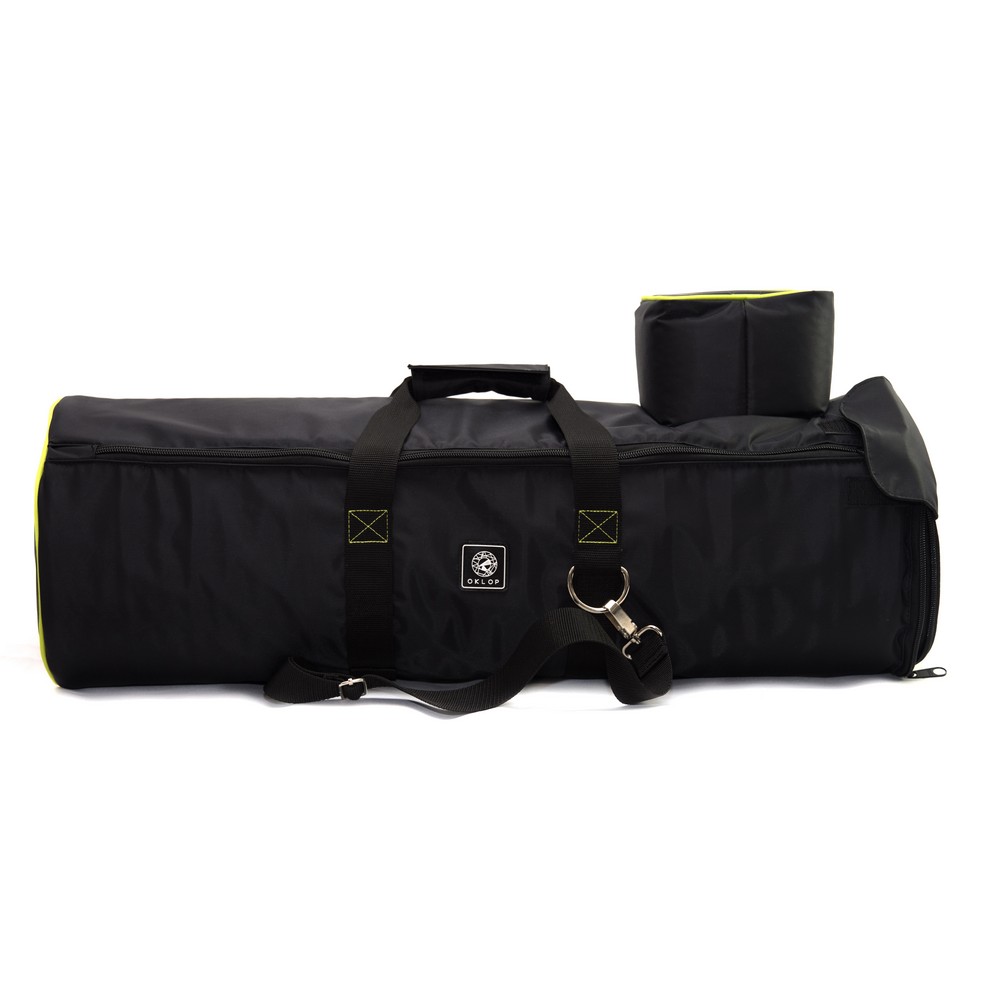 Oklop Padded Bag for 150/750 Newtonians will be your indispensable assistant anytime you want to transport your telescope, take it somewhere away from the city lights or store it conveniently. This stylish and lightweight bag is made of shiny polyester. This water-repellent material firmly protects the telescope from dust and moisture; it is durable and easy to clean. The carabiners and rings are metal, which guarantees long time use. This model fits the telescope tube with rings and a dovetail bar, and has a special integrated pocket for a focuser. Featuring a cylindrical shape, the bag keeps the telescope and its parts from wobbling. The shoulder strap is wide and convenient. It is also removable, so you can detach it and use the handles. Like other Oklop models, the Oklop Padded Bag for 150/750 Newtonians has 10 mm foam rubber padding that helps it hold its shape and protects the equipment from mechanical damage. You can carry the bag on your shoulder or in your hand – it will be perfectly balanced either way. Material: shiny black polyester, water repellent, silk inner lining Dimensions: 72x25x35 cm Weight: 0,81 kg