Oklop Padded Bag for 150/1200 Newtonians
A bag for storing and moving Newtonian telescopes. Size: 119x25x35 cm
Oklop Padded Bag for 150/1200 Newtonians is a reliable and convenient bag for storing and transporting your telescope. Its durable water-repellent material – shiny polyester – will protect your optical device from dust and moisture. The bag has a cylindrical shape, and holds its shape thanks to 10 mm foam rubber padding. The shape prevents all the parts of the equipment from wobbling, which is very important when it comes to transporting optics.
The bag has convenient handles and a strap (removable), which are placed according to the center of gravity. You can wear the bag on your shoulder or in your hands and it will stay balanced.
Oklop Padded Bag for 150/1200 Newtonians is capacious enough to fit in a telescope tube with rings, dovetail bar, and a focuser. For more convenience, the bag has an integrated pocket designed to keep a focuser in.
The spiral zip makes it very easy for you to open and close the bag. The rings and carabiners are metal, and the edges of the bag are bound with fabric to avoid fraying, so this durable bag will be your loyal companion for a long time.
| Material: | shiny black polyester, water repellent , silk inner lining |
| --- | --- |
| Dimensions: | 101x26x18 cm |
| Weight: | 0,95 kg |
Oklop Padded Bag for 150/1200 Newtonians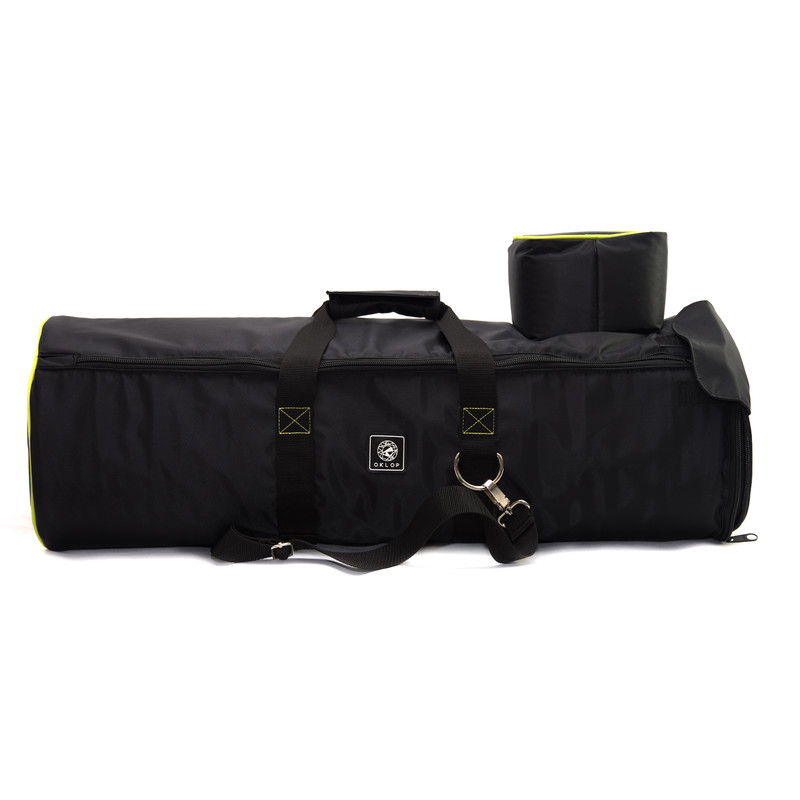 Oklop Padded Bag for 150/1200 Newtonians is a reliable and convenient bag for storing and transporting your telescope. Its durable water-repellent material – shiny polyester – will protect your optical device from dust and moisture. The bag has a cylindrical shape, and holds its shape thanks to 10 mm foam rubber padding. The shape prevents all the parts of the equipment from wobbling, which is very important when it comes to transporting optics. The bag has convenient handles and a strap (removable), which are placed according to the center of gravity. You can wear the bag on your shoulder or in your hands and it will stay balanced. Oklop Padded Bag for 150/1200 Newtonians is capacious enough to fit in a telescope tube with rings, dovetail bar, and a focuser. For more convenience, the bag has an integrated pocket designed to keep a focuser in. The spiral zip makes it very easy for you to open and close the bag. The rings and carabiners are metal, and the edges of the bag are bound with fabric to avoid fraying, so this durable bag will be your loyal companion for a long time. Material: shiny black polyester, water repellent , silk inner lining Dimensions: 101x26x18 cm Weight: 0,95 kg