Bresser Pluto 114/500 EQ Telescope
The Newtonian telescope. Aperture: 114mm. Focal distance: 500mm
A small reflecting Bresser Pluto 114/500 telescope is a perfect choice for travelers; you can easily take it with you anywhere you go. A novice astronomer as well as an experienced explorer can work with this optical tool. In spite of its small size, Bresser Pluto 114/500 features quality optics and delivers a high quality image. Moreover, this telescope has a large mirror with a wide field of view.
With this telescope, you will see cracks and craters on the lunar surface, even the smaller ones, and watch how Martian summer changes to Martian fall. You will also be able to observe all of the planets, including Neptune, bright comets, faint stars, and bright distant nebulae, star clusters, and galaxies.
The finderscope will help you find an object for observations quickly and precisely. A practical equatorial mount is useful for easy tracking of the celestial objects.
Features:
Reflecting telescope
114mm aperture
Focal ratio f/4
Coated optics
Limiting stellar magnitude of 12.4
Magnification: up to 375x with the included eyepieces
5-year warranty
Optical tube
Equatorial mount
Aluminum tripod with an accessory tray
LED red dot finderscope
Eyepieces: 20mm, 4mm
3x Barlow lens
Smartphone camera adapter
User manual and warranty
Test dsescription
Bresser Pluto 114/500 EQ Telescope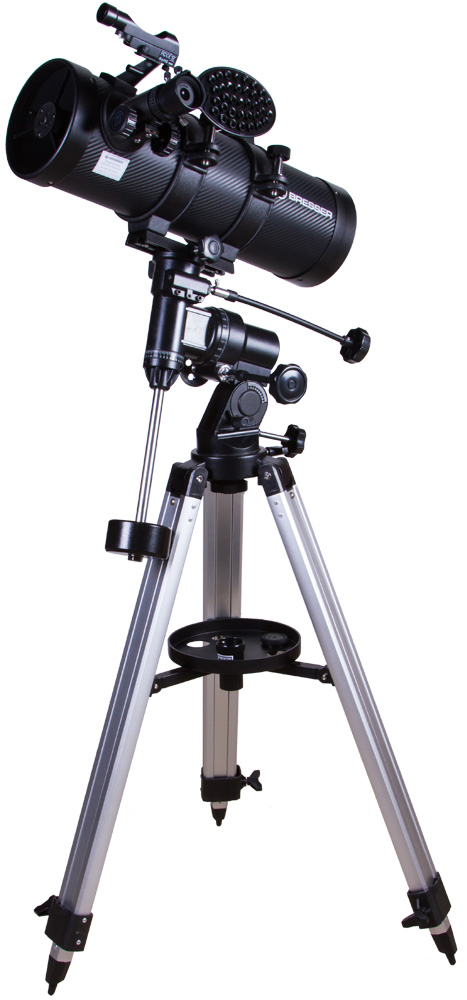 A small reflecting Bresser Pluto 114/500 telescope is a perfect choice for travelers; you can easily take it with you anywhere you go. A novice astronomer as well as an experienced explorer can work with this optical tool. In spite of its small size, Bresser Pluto 114/500 features quality optics and delivers a high quality image. Moreover, this telescope has a large mirror with a wide field of view. With this telescope, you will see cracks and craters on the lunar surface, even the smaller ones, and watch how Martian summer changes to Martian fall. You will also be able to observe all of the planets, including Neptune, bright comets, faint stars, and bright distant nebulae, star clusters, and galaxies. The finderscope will help you find an object for observations quickly and precisely. A practical equatorial mount is useful for easy tracking of the celestial objects. Features: Reflecting telescope 114mm aperture Focal ratio f/4 Coated optics Limiting stellar magnitude of 12.4 Magnification: up to 375x with the included eyepieces 5-year warranty Optical tube Equatorial mount Aluminum tripod with an accessory tray LED red dot finderscope Eyepieces: 20mm, 4mm 3x Barlow lens Smartphone camera adapter User manual and warranty Test dsescription