Meade LX850 14" F/8 ACF Telescope
Catadioptric telescope. Objective lens diameter: 355.6mm. Focal length: 2845mm
The LX850 14" F/8 ACF Telescope consists of an Optical Tube Assembly (OTA), Starlock dual imager full-time autoguider, AutoStar II GoTo System, a German Equatorial Mount, and a heavy-duty tripod.
The LX850 Telescope's OTA features 14" f/8 ACF optics with high-contrast baffling that allows for a wider, flatter field and ensures that pinpoint star images are visible even at the very edge of the field of view. Meade's UHTC on the OTA optics reduce light loss through reflection or transmission, and allow for high image brightness and contrast. Thanks to the ACF optics, this telescope ensures reduction in astigmatism and elimination of diffraction spikes. The LX850 telescope comes with the HD-60 25mm eyepiece that has a large, 60° apparent field of view and a long eye relief for effortless, comfortable observation.
The OTA is held in its place by the precision-machined, heavy-duty German Equatorial Mount. This mount is built using high-quality stainless steel and aircraft grade 6061-T6 aluminum alloy for durability. The mount comes with Meade's Starlock full-time autoguider that is capable of capturing even a faint 11th magnitude star.
The telescope comes with the Autostar II GoTo system that can command it to automatically slew to any of the 144,000 objects in its library. Other features include a GPS receiver, precision roller bearings on both axes, precision pointing and assisted drift alignment, 5.8" 225-tooth polished bronze worm/gear drives with low periodic error, fine manual adjustment controls on both axes, illuminated reticle output port, and internal cable routing. Three 11.8kg counterweights that come with the mount help balance the OTA's weight. The mount is capable of handling a payload of up to 40kg. The whole system is mounted on a steady tripod that features 3" thick legs. The height of the tripod is fully adjustable from 29 to 45".
Features:
14" f/8 advanced coma free optics – 2845mm focal length
Meade Ultra-High Transmission Coatings (UHTC)
Crayford focuser
40kg instrument capacity
StarLock automatic guider
AutoStar II GoTo system
Heavy-duty tripod
Zero image shift electronic micro-focuser
Meade LX850 14" F/8 ACF Telescope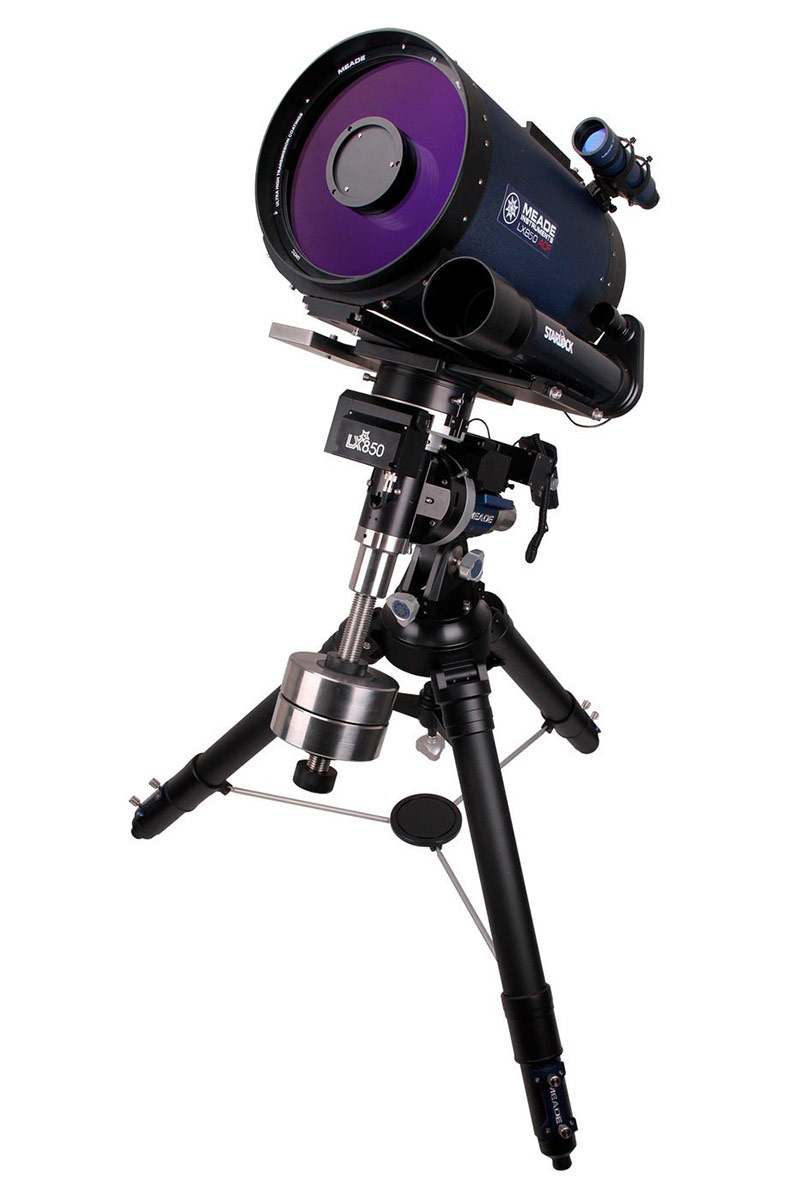 The LX850 14" F/8 ACF Telescope consists of an Optical Tube Assembly (OTA), Starlock dual imager full-time autoguider, AutoStar II GoTo System, a German Equatorial Mount, and a heavy-duty tripod. The LX850 Telescope's OTA features 14" f/8 ACF optics with high-contrast baffling that allows for a wider, flatter field and ensures that pinpoint star images are visible even at the very edge of the field of view. Meade's UHTC on the OTA optics reduce light loss through reflection or transmission, and allow for high image brightness and contrast. Thanks to the ACF optics, this telescope ensures reduction in astigmatism and elimination of diffraction spikes. The LX850 telescope comes with the HD-60 25mm eyepiece that has a large, 60° apparent field of view and a long eye relief for effortless, comfortable observation. The OTA is held in its place by the precision-machined, heavy-duty German Equatorial Mount. This mount is built using high-quality stainless steel and aircraft grade 6061-T6 aluminum alloy for durability. The mount comes with Meade's Starlock full-time autoguider that is capable of capturing even a faint 11th magnitude star. The telescope comes with the Autostar II GoTo system that can command it to automatically slew to any of the 144,000 objects in its library. Other features include a GPS receiver, precision roller bearings on both axes, precision pointing and assisted drift alignment, 5.8" 225-tooth polished bronze worm/gear drives with low periodic error, fine manual adjustment controls on both axes, illuminated reticle output port, and internal cable routing. Three 11.8kg counterweights that come with the mount help balance the OTA's weight. The mount is capable of handling a payload of up to 40kg. The whole system is mounted on a steady tripod that features 3" thick legs. The height of the tripod is fully adjustable from 29 to 45". Features: 14" f/8 advanced coma free optics – 2845mm focal length Meade Ultra-High Transmission Coatings (UHTC) Crayford focuser 40kg instrument capacity StarLock automatic guider AutoStar II GoTo system Heavy-duty tripod Zero image shift electronic micro-focuser