Meade LX85 80mm Refractor Telescope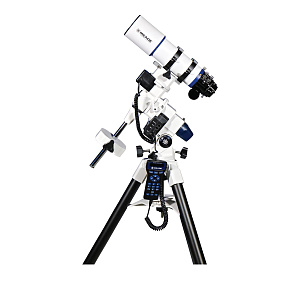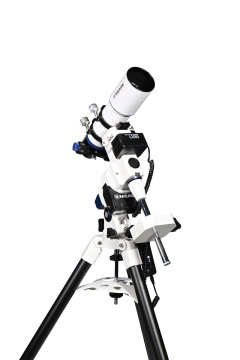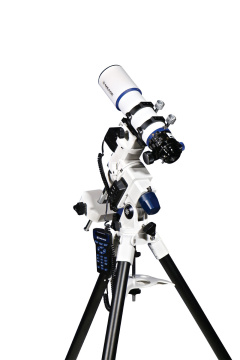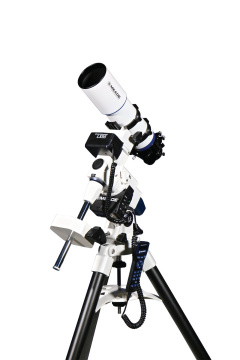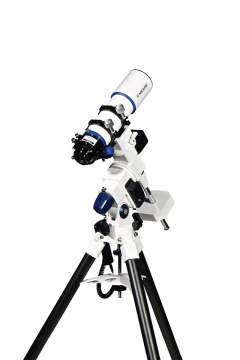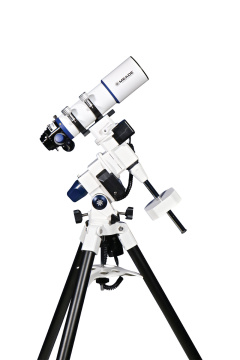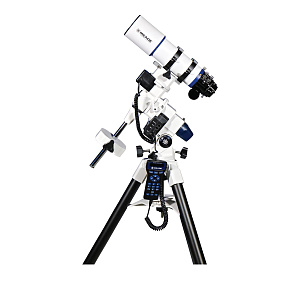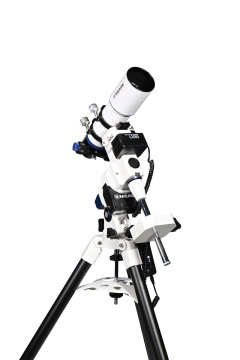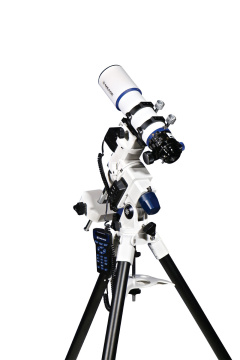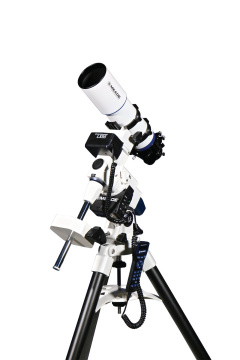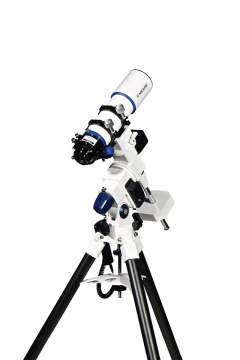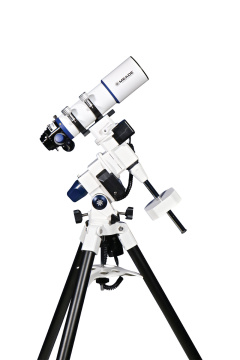 Apochromatic refractor. Objective lens diameter: 80mm. Focal length: 480mm
The optical design uses the highest grade extra-low dispersion optical glass to eliminate false color, yielding astonishing color correction, contrast, and sharpness. This telescope includes a fully extendable dew shield and vixen-style dovetail. This telescope is equipped with a 2.5" dual rack & pinion focuser (10:1 fine focuser) and fully multi-coated optics.
Meade's new LX85 refracting telescopes with a portable GoTo German Equatorial Mount. This mount is suitable for optical tubes up to 33lbs and provides a smooth tracking performance. Due to an included integer gearing in the motor drive, you'll be able to track through long exposures using permanent periodic error correction (PPEC), which is also practical for astrophotography. You can easily connect this mount to an autoguider camera with the help of an integrated autoguider port.
You will be impressed by the included AudioStar® hand controller that allows easy access to 30,000-objects. Just press a button and observe! Listen to educational stories about the celestial objects that you observe in the night sky. AudioStar® features a built-in speaker that plays educational content about the celestial objects you view!
Meade LX85 80mm Refractor Telescope features a 3-element apochromatic refractor optical design. Features an 80mm aperture, 480mm focal length, and f/6 focal ratio. Standard equipment also includes an aluminum hard carry case to protect your 80mm APO.
Features:
80mm Apochromatic Refractor
480mm Focal Length
f/6 Focal Ratio
Vixen-Style Dovetail
Fully extendable Dew Shield
Vixen-Style Dovetail receiver
GoTo German Equatorial Mount with 33 lb. payload capacity
User guide
Meade LX85 80mm Refractor Telescope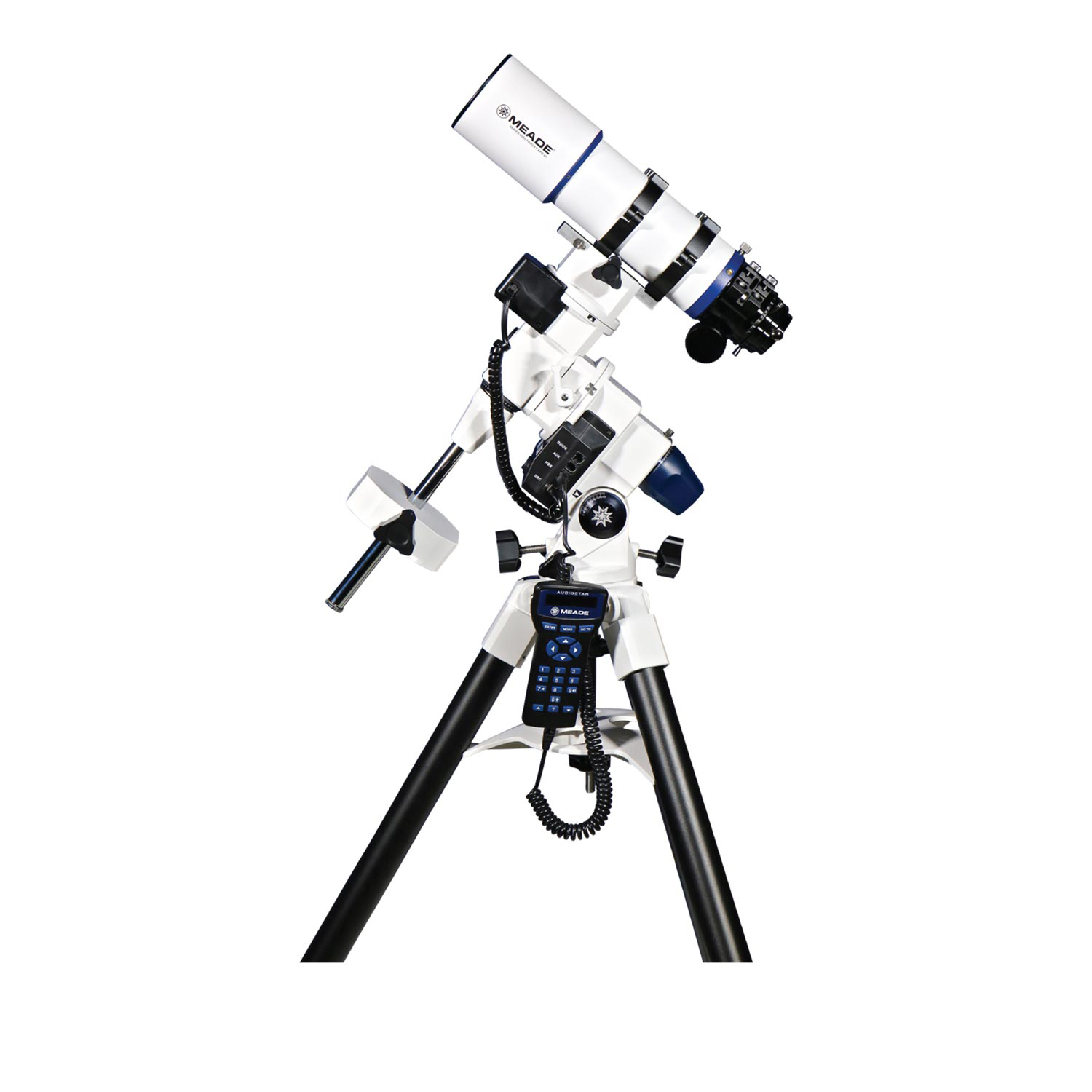 The optical design uses the highest grade extra-low dispersion optical glass to eliminate false color, yielding astonishing color correction, contrast, and sharpness. This telescope includes a fully extendable dew shield and vixen-style dovetail. This telescope is equipped with a 2.5" dual rack & pinion focuser (10:1 fine focuser) and fully multi-coated optics. Meade's new LX85 refracting telescopes with a portable GoTo German Equatorial Mount. This mount is suitable for optical tubes up to 33lbs and provides a smooth tracking performance. Due to an included integer gearing in the motor drive, you'll be able to track through long exposures using permanent periodic error correction (PPEC), which is also practical for astrophotography. You can easily connect this mount to an autoguider camera with the help of an integrated autoguider port. You will be impressed by the included AudioStar® hand controller that allows easy access to 30,000-objects. Just press a button and observe! Listen to educational stories about the celestial objects that you observe in the night sky. AudioStar® features a built-in speaker that plays educational content about the celestial objects you view! Meade LX85 80mm Refractor Telescope features a 3-element apochromatic refractor optical design. Features an 80mm aperture, 480mm focal length, and f/6 focal ratio. Standard equipment also includes an aluminum hard carry case to protect your 80mm APO. Features: 80mm Apochromatic Refractor 480mm Focal Length f/6 Focal Ratio Vixen-Style Dovetail Fully extendable Dew Shield Vixen-Style Dovetail receiver GoTo German Equatorial Mount with 33 lb. payload capacity User guide