Meade LX85 6" MAK Telescope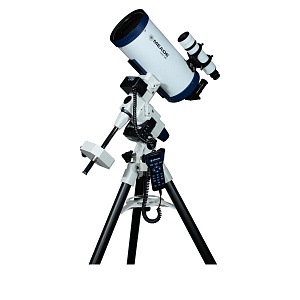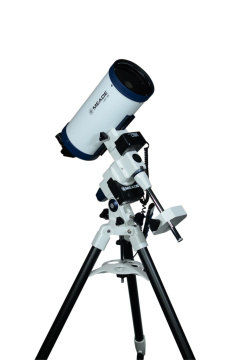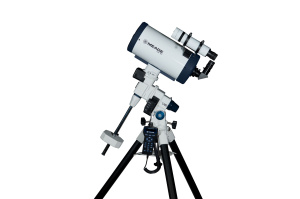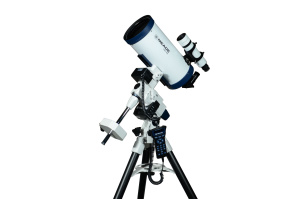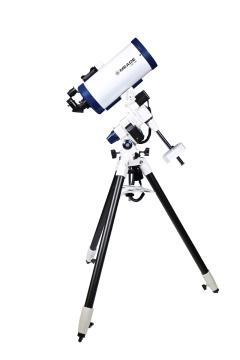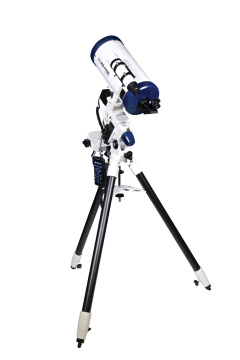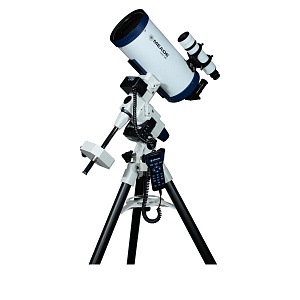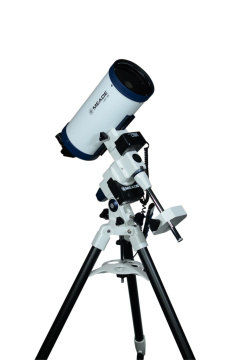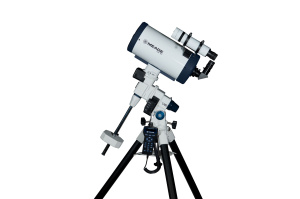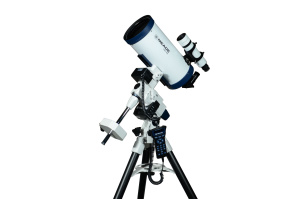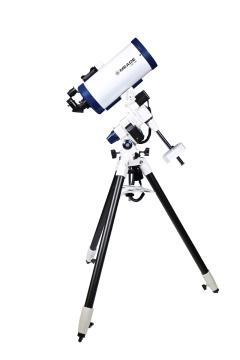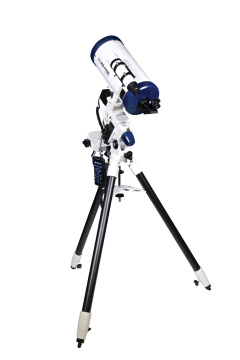 Maksutov-Cassegrain telescope. Objective lens diameter: 150mm. Focal length: 1800mm
Meade LX85 Telescope is an excellent deep-sky performer. It comes with a high-quality, portable GoTo German Equatorial Mount. This telescope is perfect for observing space and rediscovering the night sky.
The LX85 Mount features a vixen-style dovetail, for mounting optical tubes up to 33lbs. You will be able to track through long exposures using permanent periodic error correction (PPEC) due to an included integer gearing in the motor drive. You can seamlessly image the pictures of the night sky without performing a meridian flip.
This stable mount easily handles slight load imbalances. It also includes an integrated autoguider port so that you can easily connect to an autoguider camera to make your astrophotography experience remarkable. This telescope features AudioStar® Hand Box that includes a database of 30.000 objects. You can view any of them just by pressing a button! It plays educational content and you learn more about space and celestial objects. The kit includes two 1.25" Plossl eyepieces (9.7mm & 26mm) and a viewfinder (8x50 optical with crosshair) and a vixen-style dovetail.
Some models come with Ultra High Transmission Coatings (UHTC™) that makes star clusters brighter, allows observing more fine detail in nebulae, and greater surface features on planets.
Meade LX85 6" MAK Telescope features a Maksutov-Cassegrain optical design for pinpoint star images and extraordinary contrast. The OTA alone weighs 12.7 lbs and has dimensions of 7.5" x 18.1".
Features:
150mm (6") Maksutov-Cassegrain
1800mm Focal Length
f/12 Focal Ratio
9.7mm & 26mm Plössl (1.25") Eyepieces
8x50 Optical Viewfinder with Crosshair I
Vixen-Style Dovetail receiver
GoTo German Equatorial Mount with 33 lbs payload capacity
Meade LX85 6" MAK Telescope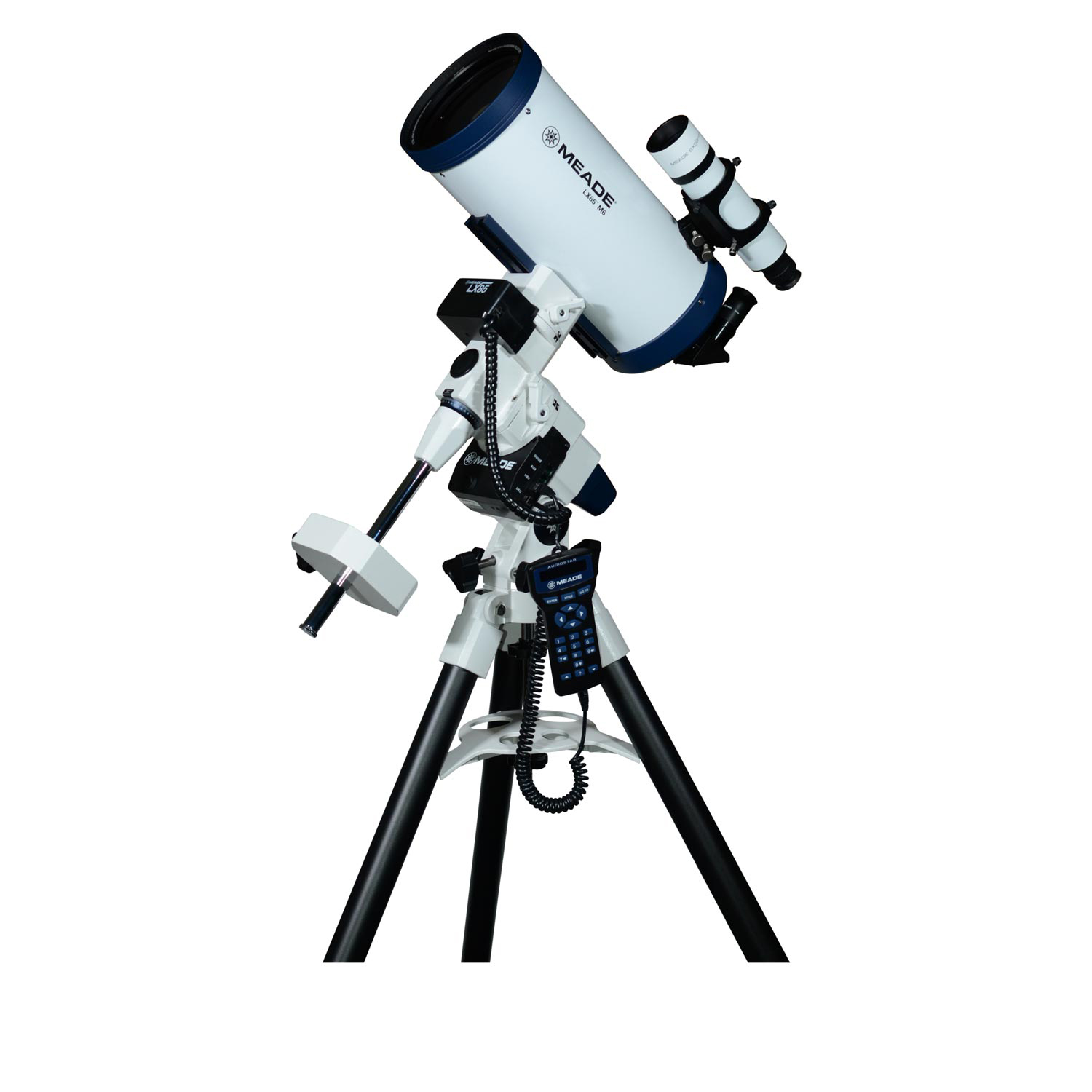 Meade LX85 Telescope is an excellent deep-sky performer. It comes with a high-quality, portable GoTo German Equatorial Mount. This telescope is perfect for observing space and rediscovering the night sky. The LX85 Mount features a vixen-style dovetail, for mounting optical tubes up to 33lbs. You will be able to track through long exposures using permanent periodic error correction (PPEC) due to an included integer gearing in the motor drive. You can seamlessly image the pictures of the night sky without performing a meridian flip. This stable mount easily handles slight load imbalances. It also includes an integrated autoguider port so that you can easily connect to an autoguider camera to make your astrophotography experience remarkable. This telescope features AudioStar® Hand Box that includes a database of 30.000 objects. You can view any of them just by pressing a button! It plays educational content and you learn more about space and celestial objects. The kit includes two 1.25" Plossl eyepieces (9.7mm & 26mm) and a viewfinder (8x50 optical with crosshair) and a vixen-style dovetail. Some models come with Ultra High Transmission Coatings (UHTC™) that makes star clusters brighter, allows observing more fine detail in nebulae, and greater surface features on planets. Meade LX85 6" MAK Telescope features a Maksutov-Cassegrain optical design for pinpoint star images and extraordinary contrast. The OTA alone weighs 12.7 lbs and has dimensions of 7.5" x 18.1". Features: 150mm (6") Maksutov-Cassegrain 1800mm Focal Length f/12 Focal Ratio 9.7mm & 26mm Plössl (1.25") Eyepieces 8x50 Optical Viewfinder with Crosshair I Vixen-Style Dovetail receiver GoTo German Equatorial Mount with 33 lbs payload capacity