Meade LX85 6" ACF Telescope
Advanced Coma-Free telescope with GoTo function. Objective lens diameter: 152mm. Focal length: 1524mm
Meade LX85 6" ACF Telescope has an Advanced Coma-Free (ACF) optical design offering the coma-free pinpoint star images and flatter image fields while reducing astigmatism and eliminates diffraction spikes. Features include a 6" (152mm) aperture, 1524mm focal length, and f/10 focal ratio. Equipped with an internal single speed focuser and Ultra High Transmission Coatings (UHTC) for the improvement of brighter star clusters, additional fine detail in nebulae, and greater surface features on planets. Includes (2) 1.25" Plössl eyepieces (9.7mm & 26mm) and a viewfinder (8x50 optical with crosshair) along with a vixen-style dovetail. Assembled product weight: 45.5lbs (20.6kg). Assembled product dimensions: 47.2x47.2x63" (119.9x119.9x160cm).
Meade's new LX85 Series features a high-quality, portable, GoTo, German Equatorial Mount. The LX85 Series is the perfect choice for the cultivated observer and astro-imager looking to chase deep-sky objects! Use as a stand-alone mount or maximize your viewing potential with an array of different optical tubes. Meade's LX85 Series will keep you looking up for many years to come and sets a standard for mid-sized telescopes at a great price.
STURDY GOTO MOUNT
The LX85 mount features a vixen-style dovetail, for mounting optical tubes up to 33lbs, coupled with a sturdy build, that ensure smooth tracking performance. With it's included integer gearing in the motor drive, you'll be able to track through long exposures using permanent periodic error correction (PPEC), another benefit for astrophotography. Seamlessly image the best parts of the night sky with not having to worry about performing a meridian flip. This stable mount can impressively handle slight load imbalances with ease. This mount includes an integrated autoguider port to readily connect to your autoguider camera, making your astro-imaging experience easy and straightforward.
AUDIOSTAR HAND BOX
With the included AudioStar hand controller, you have easy access to 30,000-objects, that you can view with a simple press of a button! AudioStar features a built-in speaker that plays educational content about the celestial objects you view!
Features:
1524mm (f/10) focal length
Vixen-style dovetail receiver
9.7mm & 26mm Super Plössl (1.25") eyepieces included
8x50 optical viewfinder with crosshair included
Meade #607 DC power cord w/cigarette lighter adapter included
Meade LX85 6" ACF Telescope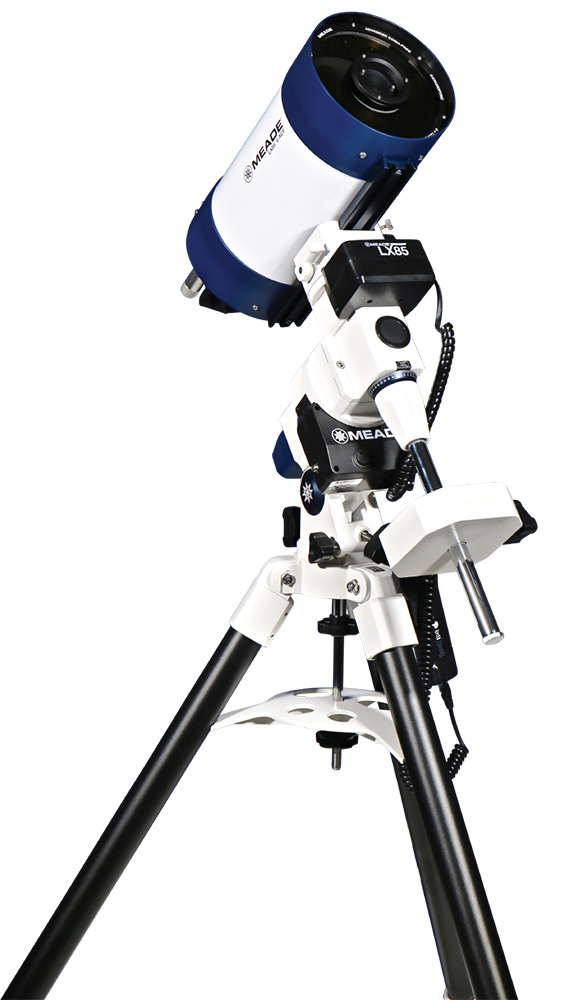 Meade LX85 6" ACF Telescope has an Advanced Coma-Free (ACF) optical design offering the coma-free pinpoint star images and flatter image fields while reducing astigmatism and eliminates diffraction spikes. Features include a 6" (152mm) aperture, 1524mm focal length, and f/10 focal ratio. Equipped with an internal single speed focuser and Ultra High Transmission Coatings (UHTC) for the improvement of brighter star clusters, additional fine detail in nebulae, and greater surface features on planets. Includes (2) 1.25" Plössl eyepieces (9.7mm & 26mm) and a viewfinder (8x50 optical with crosshair) along with a vixen-style dovetail. Assembled product weight: 45.5lbs (20.6kg). Assembled product dimensions: 47.2x47.2x63" (119.9x119.9x160cm). Meade's new LX85 Series features a high-quality, portable, GoTo, German Equatorial Mount. The LX85 Series is the perfect choice for the cultivated observer and astro-imager looking to chase deep-sky objects! Use as a stand-alone mount or maximize your viewing potential with an array of different optical tubes. Meade's LX85 Series will keep you looking up for many years to come and sets a standard for mid-sized telescopes at a great price. STURDY GOTO MOUNT The LX85 mount features a vixen-style dovetail, for mounting optical tubes up to 33lbs, coupled with a sturdy build, that ensure smooth tracking performance. With it's included integer gearing in the motor drive, you'll be able to track through long exposures using permanent periodic error correction (PPEC), another benefit for astrophotography. Seamlessly image the best parts of the night sky with not having to worry about performing a meridian flip. This stable mount can impressively handle slight load imbalances with ease. This mount includes an integrated autoguider port to readily connect to your autoguider camera, making your astro-imaging experience easy and straightforward. AUDIOSTAR HAND BOX With the included AudioStar hand controller, you have easy access to 30,000-objects, that you can view with a simple press of a button! AudioStar features a built-in speaker that plays educational content about the celestial objects you view! Features: 1524mm (f/10) focal length Vixen-style dovetail receiver 9.7mm & 26mm Super Plössl (1.25") eyepieces included 8x50 optical viewfinder with crosshair included Meade #607 DC power cord w/cigarette lighter adapter included