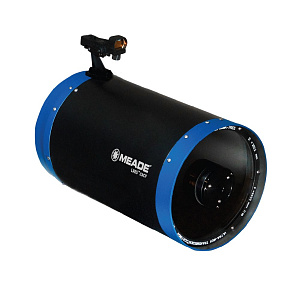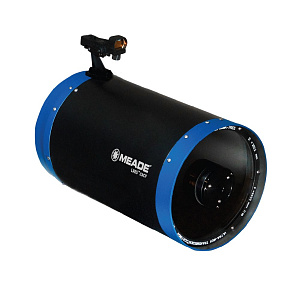 Advanced Coma-Free OTA. Objective lens diameter: 203mm. Focal length: 2032mm
The LX65 Series 8" ACF has an Advanced Coma-Free (ACF) optical design offering the coma-free pinpoint star images and flatter image fields while reducing astigmatism and eliminates diffraction spikes. Features include a 8" (203mm) aperture, 2032mm focal length, and f/10 focal ratio. Equipped with an internal single speed focuser and Ultra High Transmission Coatings (UHTC) for the improvement of brighter star clusters, more fine detail in nebulae, and greater surface features on planets. Includes (1) 26mm, 1.25" Super Plössl eyepiece and a red-dot viewfinder along with a Vixen-style dovetail. With included accessories, the OTA weighs 5.5kg (12lbs. 3oz.) and has dimensions of 51x31x25cm (20x12.2x9.8").
MEADE PREMIUM OPTICS
The heart of any telescope is its optics. Meade delivers the highest quality professional grade optics available. These optical tubes feature large apertures and Meade's Advanced Coma-Free (ACF) optics coupled with Meade's Ultra-High Transmission Coatings (UHTC), giving you the ultimate in premium optics. The LX65 is an ideal high-resolution visual observing instrument but is also fully qualified for the more advanced areas of astronomy, including planetary astrophotography. Observe Saturn's rings, the surface of the Moon, and even the cloud bands on Jupiter in great detail.
Features:
203mm (8") Advanced-Coma Free (ACF)
2032mm focal length
f/10 focal ratio
26mm Super Plössl (1.25") eyepiece & red-dot viewfinder included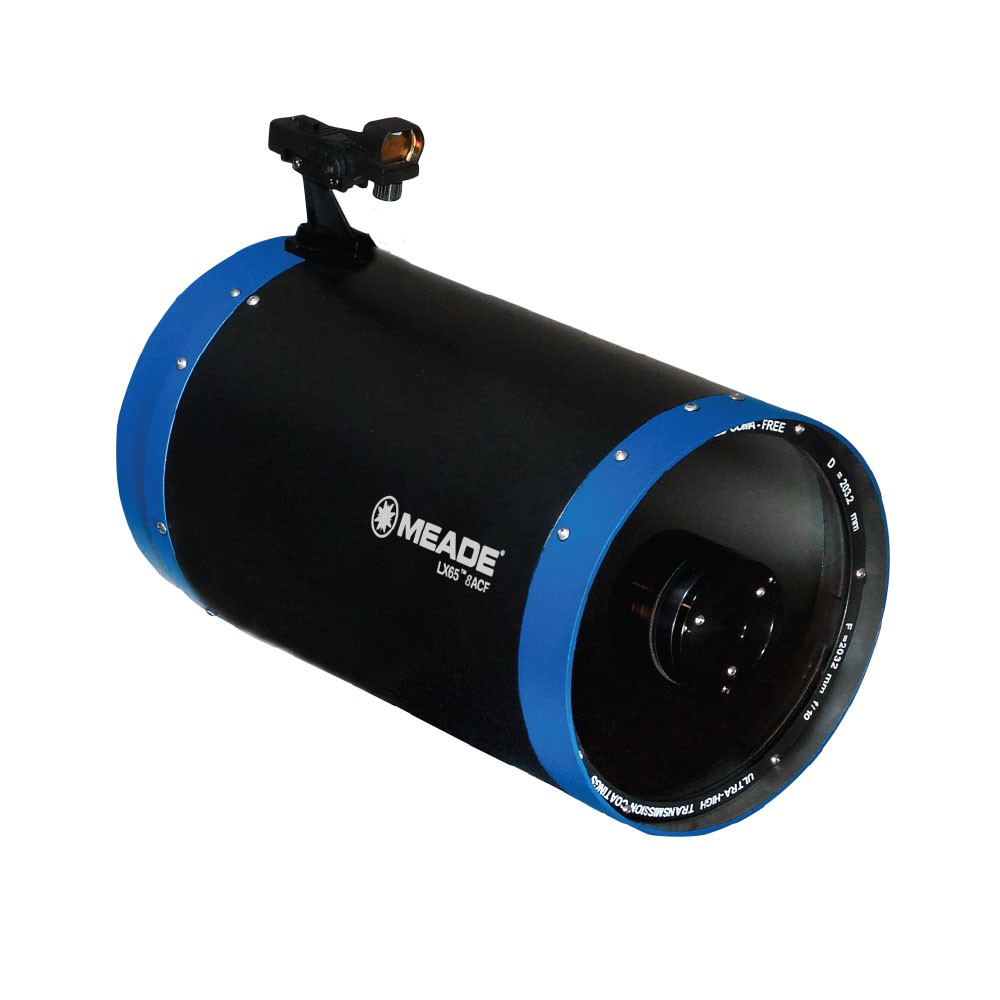 The LX65 Series 8" ACF has an Advanced Coma-Free (ACF) optical design offering the coma-free pinpoint star images and flatter image fields while reducing astigmatism and eliminates diffraction spikes. Features include a 8" (203mm) aperture, 2032mm focal length, and f/10 focal ratio. Equipped with an internal single speed focuser and Ultra High Transmission Coatings (UHTC) for the improvement of brighter star clusters, more fine detail in nebulae, and greater surface features on planets. Includes (1) 26mm, 1.25" Super Plössl eyepiece and a red-dot viewfinder along with a Vixen-style dovetail. With included accessories, the OTA weighs 5.5kg (12lbs. 3oz.) and has dimensions of 51x31x25cm (20x12.2x9.8"). MEADE PREMIUM OPTICS The heart of any telescope is its optics. Meade delivers the highest quality professional grade optics available. These optical tubes feature large apertures and Meade's Advanced Coma-Free (ACF) optics coupled with Meade's Ultra-High Transmission Coatings (UHTC), giving you the ultimate in premium optics. The LX65 is an ideal high-resolution visual observing instrument but is also fully qualified for the more advanced areas of astronomy, including planetary astrophotography. Observe Saturn's rings, the surface of the Moon, and even the cloud bands on Jupiter in great detail. Features: 203mm (8") Advanced-Coma Free (ACF) 2032mm focal length f/10 focal ratio 26mm Super Plössl (1.25") eyepiece & red-dot viewfinder included