Meade LX600 12" F/8 ACF Telescope without Tripod
Catadioptric telescope with GoTo function. Objective lens diameter: 305mm. Focal length: 2438mm
Meade Instruments is proud to announce the latest addition to our line of industry leading developments, the LX600, ready to take your visual and optical astronomy to the next level. The fast f/8 Advanced Coma Free optical system produces a wider, flatter field with no coma for pinpoint stars out to the edge of larger imaging sensors and extreme wide angle eyepieces. Includes StarLock for full time guiding at one arc second precision and LightSwitch style auto-alignment, Crayford style zero shift focuser with reduction, AutoStar II GoTo system with over 145,000 object library, and much more.
This LX600 has 12" diameter f/8 ACF optics (focal length 2438mm) and Ultra-High Transmission Coatings (UHTC) for maximum image brightness and contrast. The redesigned mirror mounting system achieves zero image shift and includes an internal Crayford style focuser with two speed, 7:1 reduction control that allows for quick and easy adjustments.
Includes StarLock – the revolutionary new technology that makes target acquisition on your imaging sensor and accurate guiding during exposures completely automatic.
The LX600 12" ACF Telescope comes fully equipped with AutoStar II keypad with 145,000 object library, Meade 1.25" diagonal, 26mm Super Plössl eyepiece and 8x50 viewfinder with quick release bracket.
NOTE: Shown on photo with tripod. Tripod is not included.
Features:
12" f/8 advanced coma free optics – 2438mm focal length
Ultra-High Transmission Coatings (UHTC)
Crayford focuser
StarLock automatic guider
AutoStar II GoTo System
Meade LX600 12" F/8 ACF Telescope without Tripod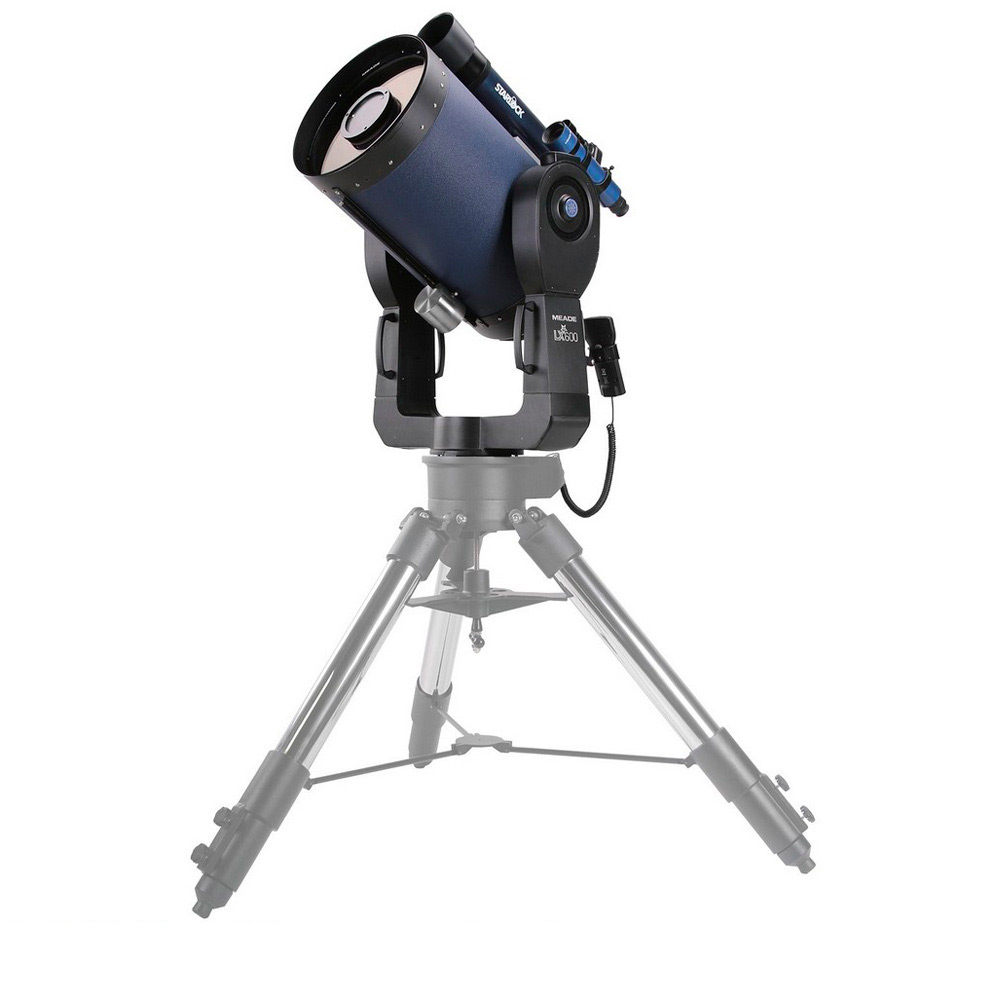 Meade Instruments is proud to announce the latest addition to our line of industry leading developments, the LX600, ready to take your visual and optical astronomy to the next level. The fast f/8 Advanced Coma Free optical system produces a wider, flatter field with no coma for pinpoint stars out to the edge of larger imaging sensors and extreme wide angle eyepieces. Includes StarLock for full time guiding at one arc second precision and LightSwitch style auto-alignment, Crayford style zero shift focuser with reduction, AutoStar II GoTo system with over 145,000 object library, and much more. This LX600 has 12" diameter f/8 ACF optics (focal length 2438mm) and Ultra-High Transmission Coatings (UHTC) for maximum image brightness and contrast. The redesigned mirror mounting system achieves zero image shift and includes an internal Crayford style focuser with two speed, 7:1 reduction control that allows for quick and easy adjustments. Includes StarLock – the revolutionary new technology that makes target acquisition on your imaging sensor and accurate guiding during exposures completely automatic. The LX600 12" ACF Telescope comes fully equipped with AutoStar II keypad with 145,000 object library, Meade 1.25" diagonal, 26mm Super Plössl eyepiece and 8x50 viewfinder with quick release bracket. NOTE: Shown on photo with tripod. Tripod is not included. Features: 12" f/8 advanced coma free optics – 2438mm focal length Ultra-High Transmission Coatings (UHTC) Crayford focuser StarLock automatic guider AutoStar II GoTo System