Meade LightBridge 10" F/5 Dobsonian Telescope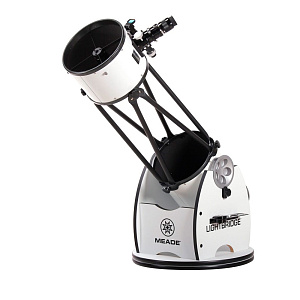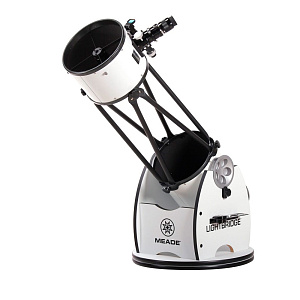 Newtonian telescope. Primary mirror diameter: 254mm. Focal length: 1270mm
The 10" LightBridge is a very capable deep sky performer, with a light grasp and image brightness over 50% brighter than an 8" telescope used at the same magnification. This greater light gathering ability will bring more faint deep sky objects into view, and in improved detail. This will be especially appreciated when used from a dark location.
The 10" LightBridge Dobsonian Telescope features a superior Meade quality multi-coated, diffraction limited 10" primary mirror, focal length 1270mm (f/5). The optics of this style of telescope are only as good as their mounting, which is why Meade engineers gave the LightBridge primary mirror a top of the line, fully adjustable, high strength but light weight aluminum stress free floating multi-point cell with built in cooling fan. The included battery pack for the fan takes 8 (user supplied) AA batteries and is used to speed the cool down process of the primary mirror, improving image quality.
Standard equipment includes a high quality, precision machined dual speed 2" Crayford-style focuser with fine focus 10:1 speed reduction and 1.25" adapter so you can use either 1.25" or 2" barrel eyepieces. Includes a 2" diameter Meade Series 4000 26mm QX Wide Angle Eyepiece for stunning wide angle views. The viewfinder is an easy to use red dot unit with four user selectable reticle pattern options and seven step brightness control. Also includes bonus Meade AutoStar Suite Astronomer Edition Software for checking star charts and planet locations.
The open truss design of the LightBridge Dobsonians means portability of the telescope is dramatically improved over a solid tube design. Taking only moments to set up and take apart for travel, the extremely rigid truss frame design ensures a no-compromises view through the telescope. Hand driven Dobsonian style telescopes by their nature need good mounts with smooth and stable movement to be enjoyable, and here again the LightBridge excels. The sturdy laminated finish wooden Dobsonian mount includes premium features such as roller bearings on the azimuth (side to side) axis and large diameter aluminum altitude (vertical axis) bearings with a hand adjustable variable tension brake for smooth and stable movement.
Fully assembled weight of the optical tube is 17kg, mount weight is 12kg. Ships in 2 boxes with weights of 21kg and 14kg.
Features:
Fast 10" f/5 1270mm focal length Newtonian Reflector
Open truss design for ultra portability
2" Meade Series 4000 26mm QX Wide Angle Eyepiece
Meade LightBridge 10" F/5 Dobsonian Telescope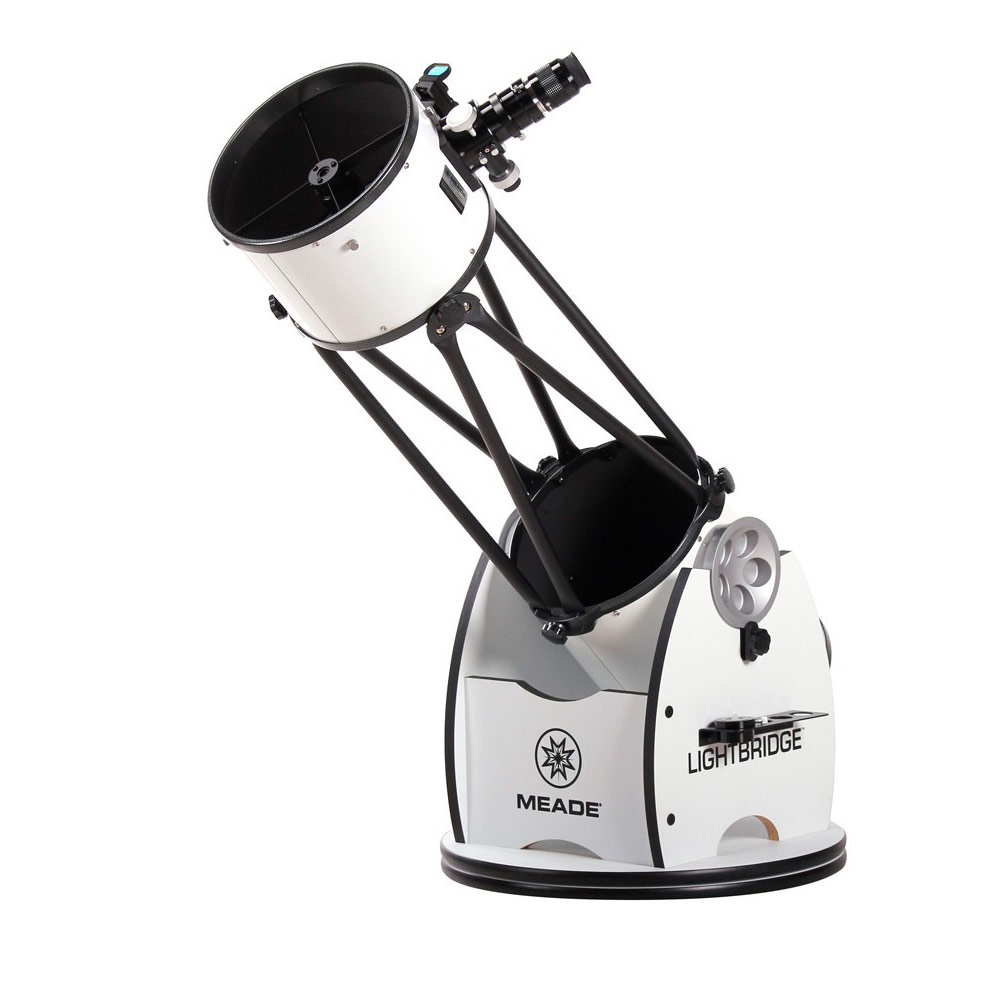 The 10" LightBridge is a very capable deep sky performer, with a light grasp and image brightness over 50% brighter than an 8" telescope used at the same magnification. This greater light gathering ability will bring more faint deep sky objects into view, and in improved detail. This will be especially appreciated when used from a dark location. The 10" LightBridge Dobsonian Telescope features a superior Meade quality multi-coated, diffraction limited 10" primary mirror, focal length 1270mm (f/5). The optics of this style of telescope are only as good as their mounting, which is why Meade engineers gave the LightBridge primary mirror a top of the line, fully adjustable, high strength but light weight aluminum stress free floating multi-point cell with built in cooling fan. The included battery pack for the fan takes 8 (user supplied) AA batteries and is used to speed the cool down process of the primary mirror, improving image quality. Standard equipment includes a high quality, precision machined dual speed 2" Crayford-style focuser with fine focus 10:1 speed reduction and 1.25" adapter so you can use either 1.25" or 2" barrel eyepieces. Includes a 2" diameter Meade Series 4000 26mm QX Wide Angle Eyepiece for stunning wide angle views. The viewfinder is an easy to use red dot unit with four user selectable reticle pattern options and seven step brightness control. Also includes bonus Meade AutoStar Suite Astronomer Edition Software for checking star charts and planet locations. The open truss design of the LightBridge Dobsonians means portability of the telescope is dramatically improved over a solid tube design. Taking only moments to set up and take apart for travel, the extremely rigid truss frame design ensures a no-compromises view through the telescope. Hand driven Dobsonian style telescopes by their nature need good mounts with smooth and stable movement to be enjoyable, and here again the LightBridge excels. The sturdy laminated finish wooden Dobsonian mount includes premium features such as roller bearings on the azimuth (side to side) axis and large diameter aluminum altitude (vertical axis) bearings with a hand adjustable variable tension brake for smooth and stable movement. Fully assembled weight of the optical tube is 17kg, mount weight is 12kg. Ships in 2 boxes with weights of 21kg and 14kg. Features: Fast 10" f/5 1270mm focal length Newtonian Reflector Open truss design for ultra portability 2" Meade Series 4000 26mm QX Wide Angle Eyepiece