Meade Infinity 76mm Reflector Telescope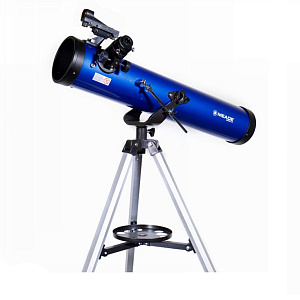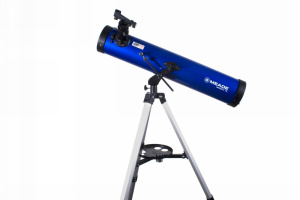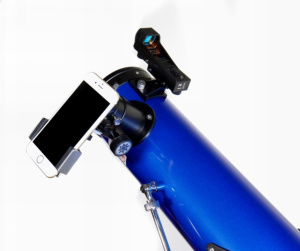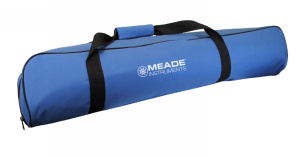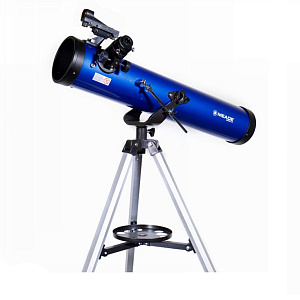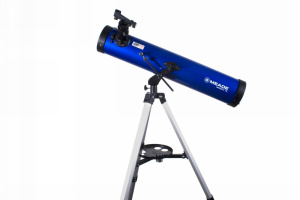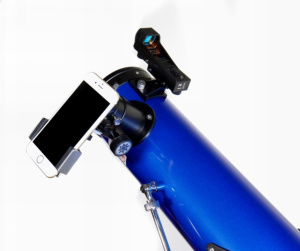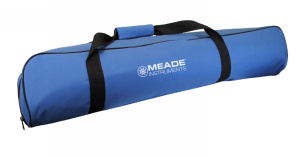 Reflector. Objective lens diameter: 76mm. Focal length: 700mm
The Meade Infinity 76mm Reflector Telescope is quality entry-level model for the first introduction to the night sky. The telescope's key features are ease of use and rich accessory set.
The telescope is installed on Alt-azimuth Yoke mount. With its help, you can move the optical tube vertically and horizontally. Navigation on objects of your interest is quick and easy. Getting acquainted with the instrument and its handling will take you only a few minutes. Reliable aluminum tripod provides good stability for the instrument. If needed, you can install an accessory tray on the tripod legs.
Telescope comes complete with everything you need to view the wonders of the night sky. The kit includes two eyepieces that allow you to choose magnification between 35x and 78x and Red Dot viewfinder that helps you to locate the objects you want to observe. Additionally, the kit includes carry bag and special astronomy planetarium software CD – it will help you quickly start to orient in all the variety of celestial objects and teach you the basics of astronomy.
You also get telescope cell phone holder that will allow you to take pictures through the telescope. This is ideal for taking bright and detailed images of the Moon, planets, and other objects like star clusters. Meade's telescope cell phone holder is compatible with many cell phone types and sizes. Its design includes several adjustments that allow for correct positioning of the phone's camera into the optical path of the telescope.
Features:
Telescope comes complete with everything you need to view the wonders of the night sky the first time out
76mm (3") reflecting telescope delivers bright and detailed images that is perfect for viewing both land and celestial objects
Features a precision easy to operate Altazimuth mount
Comes with 2 eyepieces for viewing a wide range of objects (Moon, planets, or land)
Bonus Autostar suite astronomy planetarium CD with over 10,000 celestial objects (Windows PC only)
Cell phone holder ideal for taking exiting images of the Moon, planets, and other objects
Meade Infinity 76mm Reflector Telescope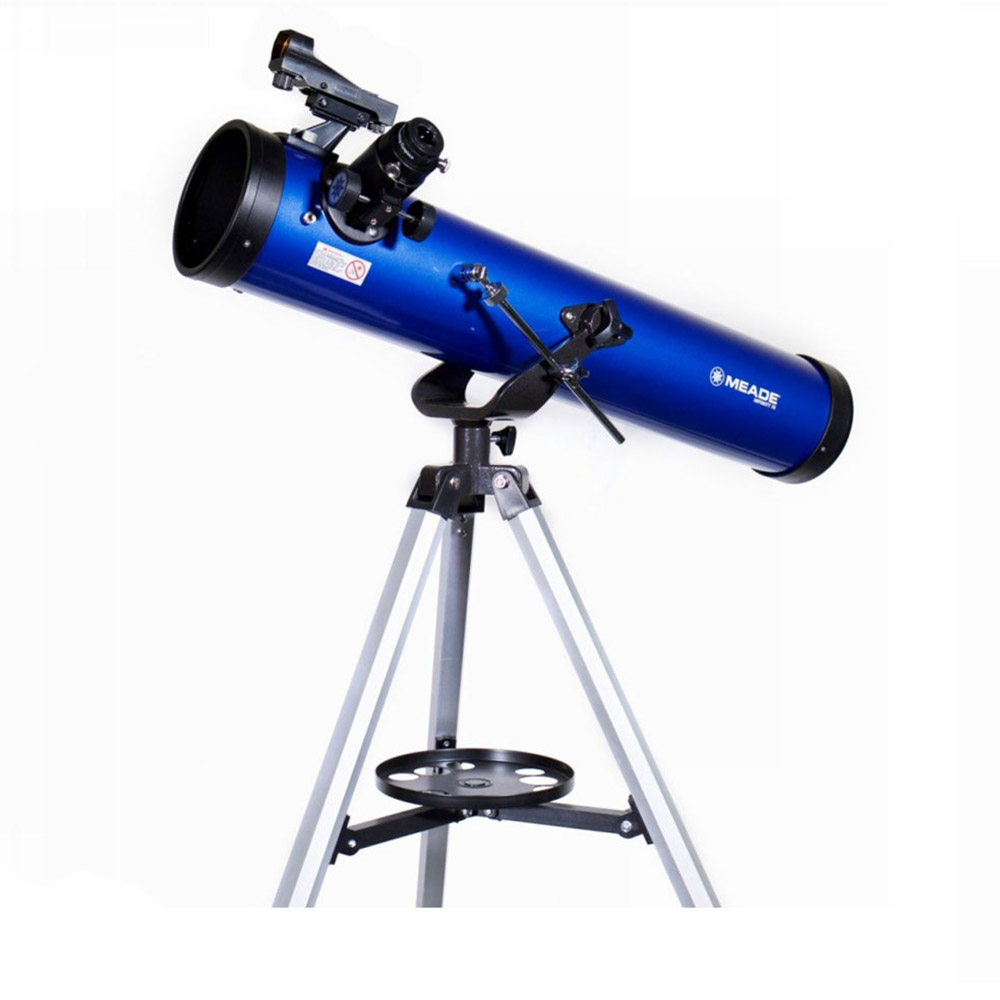 The Meade Infinity 76mm Reflector Telescope is quality entry-level model for the first introduction to the night sky. The telescope's key features are ease of use and rich accessory set. The telescope is installed on Alt-azimuth Yoke mount. With its help, you can move the optical tube vertically and horizontally. Navigation on objects of your interest is quick and easy. Getting acquainted with the instrument and its handling will take you only a few minutes. Reliable aluminum tripod provides good stability for the instrument. If needed, you can install an accessory tray on the tripod legs. Telescope comes complete with everything you need to view the wonders of the night sky. The kit includes two eyepieces that allow you to choose magnification between 35x and 78x and Red Dot viewfinder that helps you to locate the objects you want to observe. Additionally, the kit includes carry bag and special astronomy planetarium software CD – it will help you quickly start to orient in all the variety of celestial objects and teach you the basics of astronomy. You also get telescope cell phone holder that will allow you to take pictures through the telescope. This is ideal for taking bright and detailed images of the Moon, planets, and other objects like star clusters. Meade's telescope cell phone holder is compatible with many cell phone types and sizes. Its design includes several adjustments that allow for correct positioning of the phone's camera into the optical path of the telescope. Features: Telescope comes complete with everything you need to view the wonders of the night sky the first time out 76mm (3") reflecting telescope delivers bright and detailed images that is perfect for viewing both land and celestial objects Features a precision easy to operate Altazimuth mount Comes with 2 eyepieces for viewing a wide range of objects (Moon, planets, or land) Bonus Autostar suite astronomy planetarium CD with over 10,000 celestial objects (Windows PC only) Cell phone holder ideal for taking exiting images of the Moon, planets, and other objects