Meade ETX80 Observer Telescope
Achromatic refractor with GoTo function. Objective lens diameter: 80mm. Focal length: 400mm
Over the years, ETX Series telescopes have provided novice astronomers quality, value and performance, with each new model bringing enhancements and improvements. The ETX80 Observer continues that legacy.
Starting your astronomy journey with an ETX80 is the perfect choice. Take your 80mm lens and enjoy close-up views of land and celestial objects anytime, anywhere. Packing your telescope and tripod at a moment's notice is a breeze with the comfortable and durable backpack.
The ETX80 Observer fully equips the modern explorer with a sophisticated, automated and portable telescope. Its dual-purpose design includes a removable OTA that is ideal for both day or night observing and includes exceptional features like AudioStar, GoTo technology, and large 30,000 object database.
It's perfect for daytime observing during camping, hiking, and outdoor activities. Night-sky stargazing is made fun, easy and educational. With the ETX80, you'll see planets, stars, galaxies and nebulae with the push of a button.
The ETX80 Observer comes with a number of features and accessories, including: backpack for the mount/OTA; AudioStar handbox controller with over 30,000 objects and a built-in speaker; lightweight but sturdy tripod; internal flip function Barlow lens to increase the magnification of the eyepiece in use; flip mirror to let light focus to the rear of the telescope allowing attachment of a camera on the back of the scope; dew shield to prevent dew buildup and block stray light; multi-coated optics for higher contrast and brighter details; 45° roof prism for a more comfortable viewing position; bubble level/compass to make sure your tripod and mount are level; achromatic design to reduce optical aberrations.
Features:
80mm f/5 achromat refractor; 400mm focal length
AudioStar handbox with over 30,000 objects in it's database & a built-in speaker
Removable optical tube assembly (OTA), allowing the user to take the scope off of the fork mount for customization
Includes two 1.25" Super Plössl eyepieces: 26mm (15x magnification) and 9.7mm (41x magnification), and an internal flip-function 2x Barlow lens to double the magnifying power of each eyepiece
Comes with a backpack that fits the telescope/mount and accessories, tripod, 45-degree roof prism, dew shield, bubble level/compass, and software DVD
Meade ETX80 Observer Telescope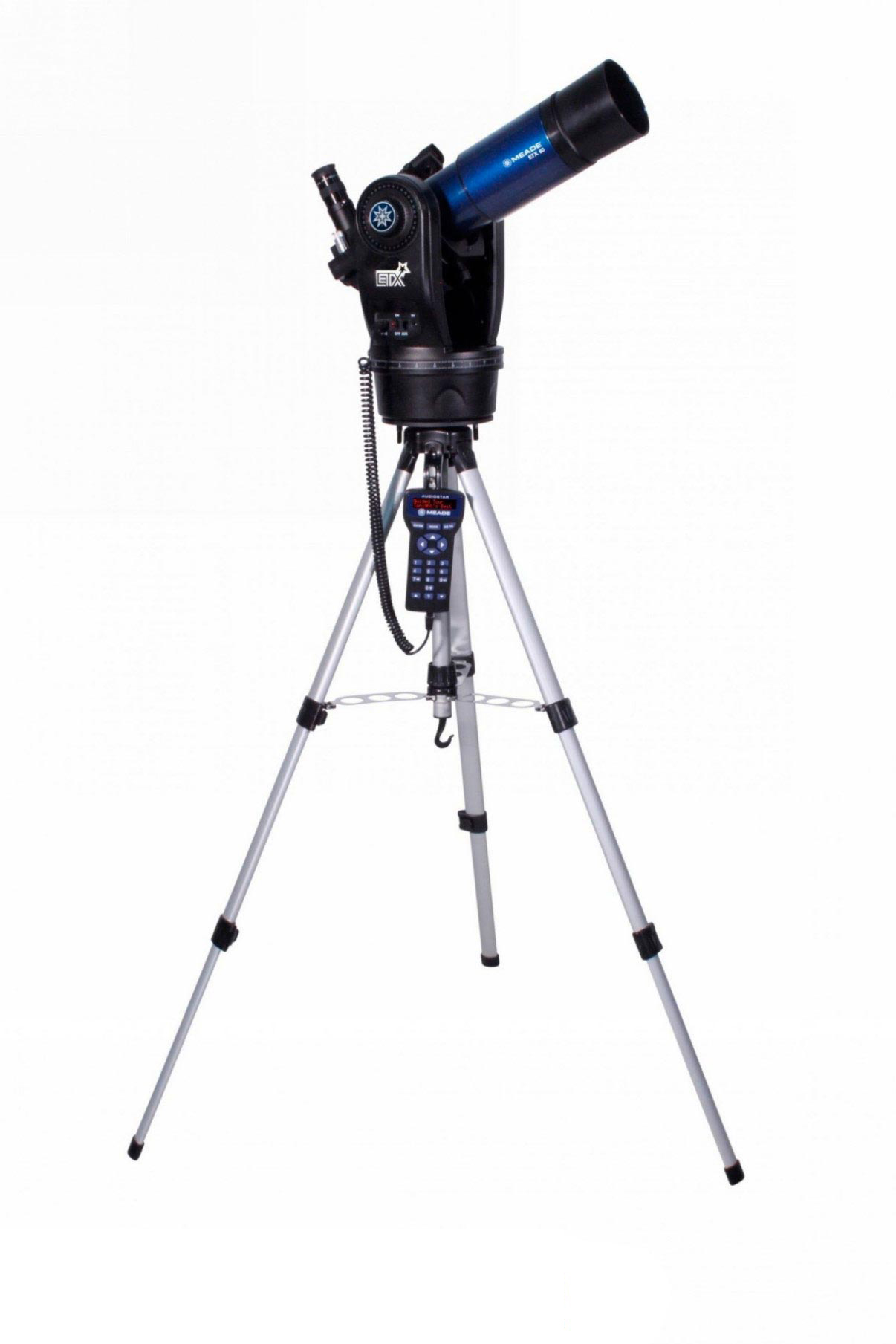 Over the years, ETX Series telescopes have provided novice astronomers quality, value and performance, with each new model bringing enhancements and improvements. The ETX80 Observer continues that legacy. Starting your astronomy journey with an ETX80 is the perfect choice. Take your 80mm lens and enjoy close-up views of land and celestial objects anytime, anywhere. Packing your telescope and tripod at a moment's notice is a breeze with the comfortable and durable backpack. The ETX80 Observer fully equips the modern explorer with a sophisticated, automated and portable telescope. Its dual-purpose design includes a removable OTA that is ideal for both day or night observing and includes exceptional features like AudioStar, GoTo technology, and large 30,000 object database. It's perfect for daytime observing during camping, hiking, and outdoor activities. Night-sky stargazing is made fun, easy and educational. With the ETX80, you'll see planets, stars, galaxies and nebulae with the push of a button. The ETX80 Observer comes with a number of features and accessories, including: backpack for the mount/OTA; AudioStar handbox controller with over 30,000 objects and a built-in speaker; lightweight but sturdy tripod; internal flip function Barlow lens to increase the magnification of the eyepiece in use; flip mirror to let light focus to the rear of the telescope allowing attachment of a camera on the back of the scope; dew shield to prevent dew buildup and block stray light; multi-coated optics for higher contrast and brighter details; 45° roof prism for a more comfortable viewing position; bubble level/compass to make sure your tripod and mount are level; achromatic design to reduce optical aberrations. Features: 80mm f/5 achromat refractor; 400mm focal length AudioStar handbox with over 30,000 objects in it's database & a built-in speaker Removable optical tube assembly (OTA), allowing the user to take the scope off of the fork mount for customization Includes two 1.25" Super Plössl eyepieces: 26mm (15x magnification) and 9.7mm (41x magnification), and an internal flip-function 2x Barlow lens to double the magnifying power of each eyepiece Comes with a backpack that fits the telescope/mount and accessories, tripod, 45-degree roof prism, dew shield, bubble level/compass, and software DVD