Levenhuk Skyline BASE 50T Telescope
Refractor. Aperture: 50mm. Focal length: 600mm
Levenhuk Skyline BASE 50T Telescope is a lightweight simple-to-assemble refractor with coated optics. It is great for observing the Moon, and urban or natural landscapes. This telescope is also suitable for observing the planets of the Solar system, but you will not be able to study them in detail. Levenhuk Skyline BASE 50T is an excellent choice for a kid who is interested in astronomy and exploring space, and it will become a wonderful first telescope for all family members.
Its main features are simple assembly and operation. The optical tube is mounted on a classic alt-azimuth mount, which requires no special skills or knowledge to operate. If you want to point a telescope toward a celestial object, just turn its tube without any extra effort, and the mount will keep it fixed in the chosen position. For precise pointing toward the celestial objects, a classic optical finder with 5x magnification is used.
The optics in the refractor are made of fully coated glass that improves image sharpness and contrast. The kit includes Barlow lens and four eyepieces: with 150x magnification, 30x magnification, 48x magnification and one erecting eyepiece. Choose appropriate magnification for observations, make it higher or lower by changing the eyepieces. The diagonal mirror included in the kit is used for terrestrial observations. Like all telescopes, Levenhuk Skyline BASE 50T transmits an upside down image and a diagonal mirror makes it look true-to-life.
An aluminum tripod with adjustable legs makes the telescope more stable. You can adjust each leg individually: that allows Levenhuk Skyline BASE 50T to stay steadily even on a rough surface. An accessory tray is mounted on a tripod. You can use a tray for convenient storing of eyepieces, star charts, a compass, or other stuff.
Features:
Lightweight, compact, and simple-to-assemble telescope
Ideal choice for terrestrial observations and exploring outer space
Suitable for kids and beginner astronomers
Main optical accessories are already included in the kit
The kit includes:
Telescope optical tube
Alt-azimuth mount
Aluminum tripod with an accessory tray
5x24 optical finderscope
4mm (150x) eyepiece
12.5mm (48x) eyepiece
20mm (30x) eyepiece
1.5x erecting eyepiece
3x Barlow lens
Diagonal mirror
User manual and lifetime warranty
Levenhuk Skyline BASE 50T Telescope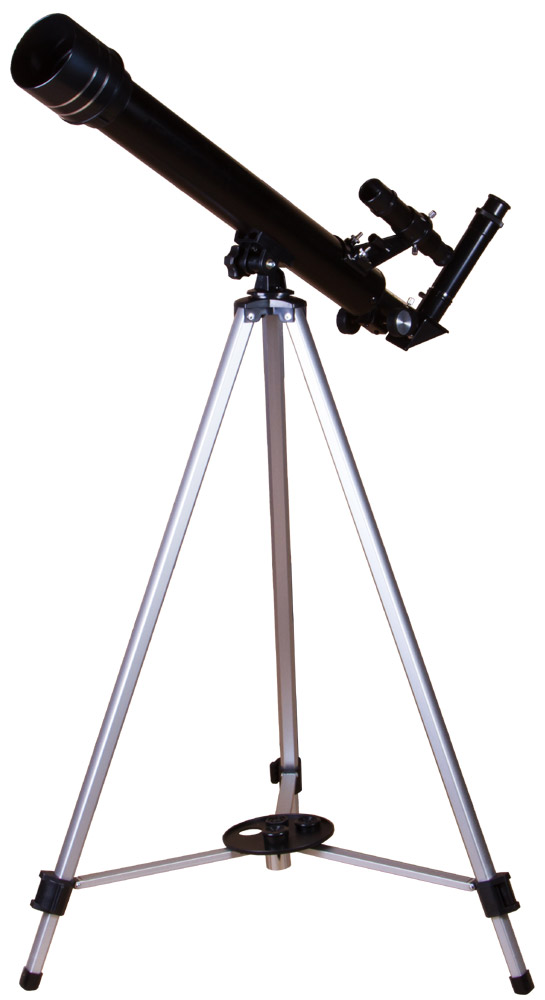 Levenhuk Skyline BASE 50T Telescope is a lightweight simple-to-assemble refractor with coated optics. It is great for observing the Moon, and urban or natural landscapes. This telescope is also suitable for observing the planets of the Solar system, but you will not be able to study them in detail. Levenhuk Skyline BASE 50T is an excellent choice for a kid who is interested in astronomy and exploring space, and it will become a wonderful first telescope for all family members.Its main features are simple assembly and operation. The optical tube is mounted on a classic alt-azimuth mount, which requires no special skills or knowledge to operate. If you want to point a telescope toward a celestial object, just turn its tube without any extra effort, and the mount will keep it fixed in the chosen position. For precise pointing toward the celestial objects, a classic optical finder with 5x magnification is used.The optics in the refractor are made of fully coated glass that improves image sharpness and contrast. The kit includes Barlow lens and four eyepieces: with 150x magnification, 30x magnification, 48x magnification and one erecting eyepiece. Choose appropriate magnification for observations, make it higher or lower by changing the eyepieces. The diagonal mirror included in the kit is used for terrestrial observations. Like all telescopes, Levenhuk Skyline BASE 50T transmits an upside down image and a diagonal mirror makes it look true-to-life.An aluminum tripod with adjustable legs makes the telescope more stable. You can adjust each leg individually: that allows Levenhuk Skyline BASE 50T to stay steadily even on a rough surface. An accessory tray is mounted on a tripod. You can use a tray for convenient storing of eyepieces, star charts, a compass, or other stuff.Features:Lightweight, compact, and simple-to-assemble telescopeIdeal choice for terrestrial observations and exploring outer spaceSuitable for kids and beginner astronomersMain optical accessories are already included in the kitThe kit includes:Telescope optical tubeAlt-azimuth mountAluminum tripod with an accessory tray5x24 optical finderscope 4mm (150x) eyepiece 12.5mm (48x) eyepiece 20mm (30x) eyepiece 1.5x erecting eyepiece 3x Barlow lens Diagonal mirrorUser manual and lifetime warranty