Levenhuk Ra R80 ED Doublet Carbon OTA
Two-lens apochromatic refractor with extra-low dispersion optics. Aperture: 80mm. Focal length: 500mm
The Levenhuk Ra R80 ED Doublet Carbon OTA is an 80mm short-focus apochromatic refractor with extra-low dispersion optics. It features a high aperture and wide field of view, but its main advantage is that it effectively reduces chromatism and, therefore, it transmits a very clear image. Due to fully multi-coated optics, the telescope renders highly contrast and bright images. This optical tube is a great choice for visual observations and astrophotography.
The body is made of carbon fiber that is lighter than aluminum. What's more, the OTA's thermo stabilization is faster, as its body doesn't change inside due to temperature changes, and only the optics and the air inside should "cool down". This allows you to start observing faster as well as the quick-release thumbscrew. The OTA features a 2" dual-speed Crayford focuser. It provides smooth sharpness adjustment, no backlash, and holds even heavy optical accessories securely.
The Levenhuk Ra R80 ED Doublet Carbon OTA is well suited for use in the countryside due to its compact size, and light weight as well as being mobile and easy to carry. In addition, the kit includes robust aluminum case.
Please note: Mount, tripod, and optical accessories are not included.
Features:
Short-focus apochromatic refractor
Fully multi-coated optics made of ED glass
Minimum chromatic distortion, high contrast, and wide field of view
Dual-speed Crayford focuser for precise focus adjustments
Carbon fiber body - fast temperature stabilization and low weight
Compatible with 2'' accessories
The kit includes:
Telescope optical tube
Cleaning wipe
Aluminum case
Protective caps
User manual and lifetime warranty
Levenhuk Ra R80 ED Doublet Carbon OTA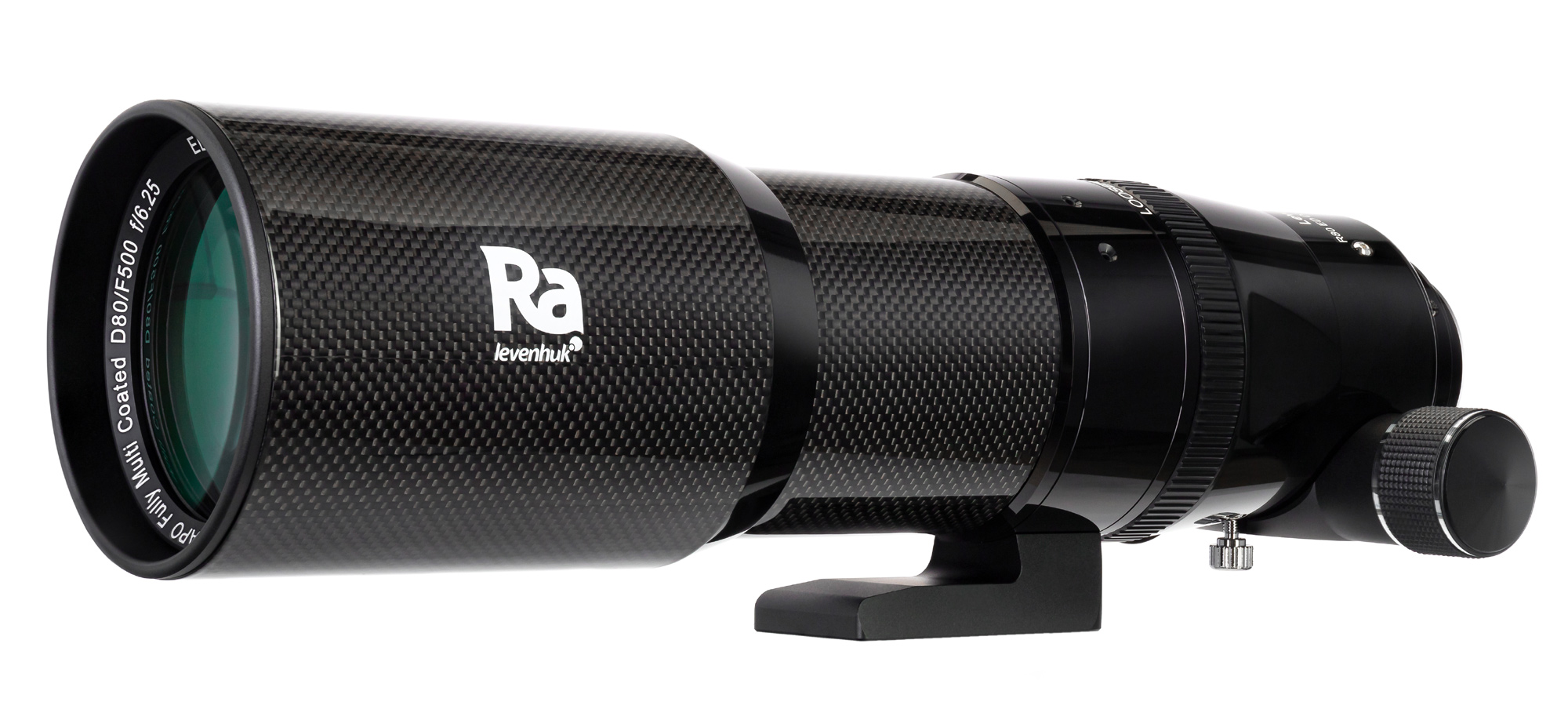 The Levenhuk Ra R80 ED Doublet Carbon OTA is an 80mm short-focus apochromatic refractor with extra-low dispersion optics. It features a high aperture and wide field of view, but its main advantage is that it effectively reduces chromatism and, therefore, it transmits a very clear image. Due to fully multi-coated optics, the telescope renders highly contrast and bright images. This optical tube is a great choice for visual observations and astrophotography. The body is made of carbon fiber that is lighter than aluminum. What's more, the OTA's thermo stabilization is faster, as its body doesn't change inside due to temperature changes, and only the optics and the air inside should "cool down". This allows you to start observing faster as well as the quick-release thumbscrew. The OTA features a 2" dual-speed Crayford focuser. It provides smooth sharpness adjustment, no backlash, and holds even heavy optical accessories securely. The Levenhuk Ra R80 ED Doublet Carbon OTA is well suited for use in the countryside due to its compact size, and light weight as well as being mobile and easy to carry. In addition, the kit includes robust aluminum case. Please note: Mount, tripod, and optical accessories are not included. Features: Short-focus apochromatic refractor Fully multi-coated optics made of ED glass Minimum chromatic distortion, high contrast, and wide field of view Dual-speed Crayford focuser for precise focus adjustments Carbon fiber body - fast temperature stabilization and low weight Compatible with 2'' accessories The kit includes: Telescope optical tube Cleaning wipe Aluminum case Protective caps User manual and lifetime warranty