Levenhuk Ra FT72 ED PhotoScope
Two-lens apochromatic refractor with extra-low dispersion optics. Aperture: 72mm. Focal length: 432mm
The Levenhuk Ra FT72 ED PhotoScope is an apochromatic refractor for astrophotography. This telescope can be used as a spotting scope as well as a camera objective lens. It can be used to observe space, but the main purpose of the telescope is photography. Due to the extra-low dispersion optics and eyepiece that efficiently collects light, this telescope renders a highly contrasting image with a minimum of chromatic distortion. The kit also includes an aluminum case that makes the transportation and storage of the telescope easier.
The Levenhuk Ra FT72 ED's main feature is a 2" helical focuser. It is robust and allows for very accurate focusing and smooth movement without backlash. It provides crisper and sharper images than a rack and pinion focuser or even the more advanced Crayford focuser can provide. It is also compatible with heavy accessories.
The optical tube has a standard 1/4" thread, so that it is compatible with the most of modern mounts and tripods. To install a SLR camera, you need a special adapter, which is not included in the kit.
Features:
Apochromatic refractor with extra-low dispersion optics
Fully multi-coated lenses render the brightest picture
Minimum chromatic distortion, wide field of view, and high contrast
Helical focuser provides precise focusing
Suitable for professional astrophotography
Compatible with 2'' accessories
The kit includes:
PhotoScope
Cleaning wipe
Aluminum case
Focuser protective cap
Eyepiece protective cap
User manual and lifetime warranty
Levenhuk Ra FT72 ED PhotoScope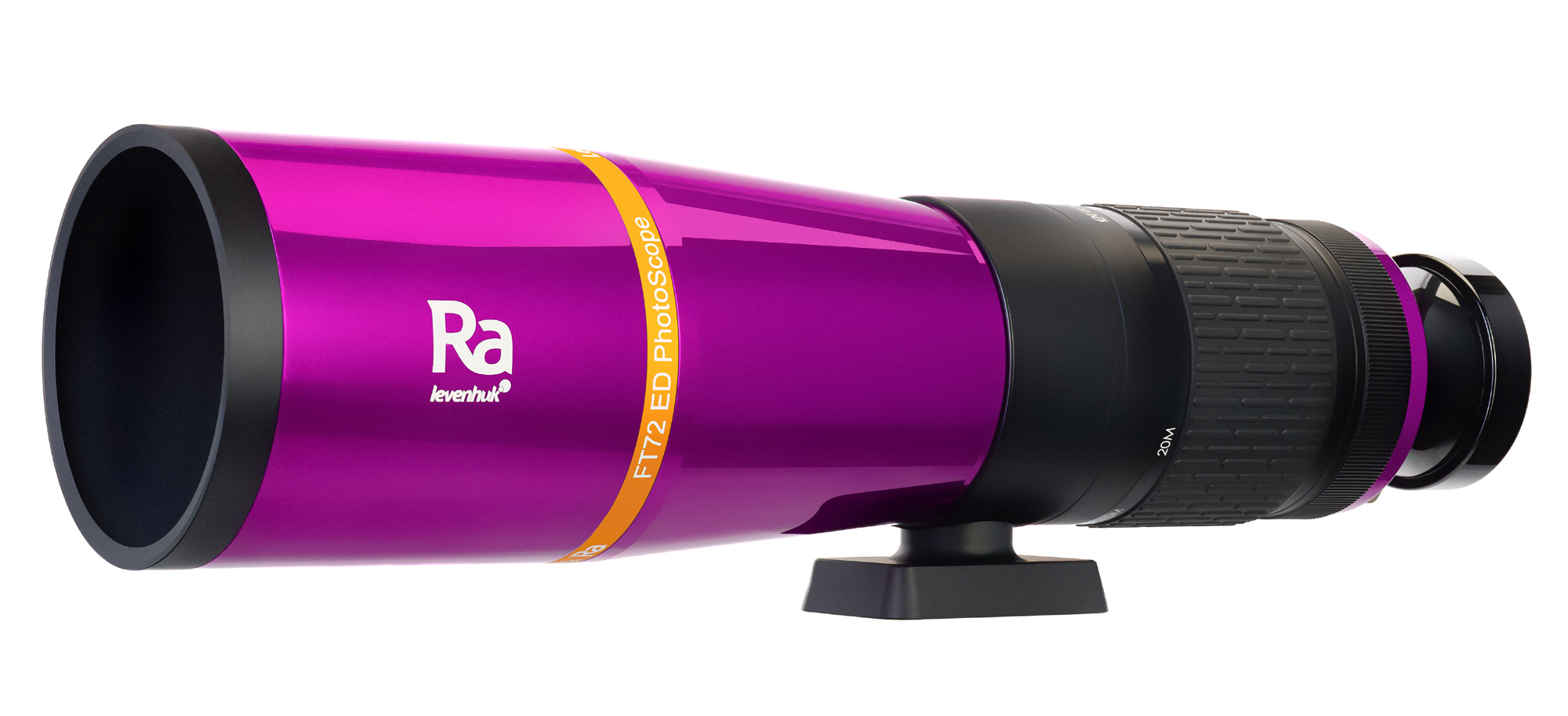 The Levenhuk Ra FT72 ED PhotoScope is an apochromatic refractor for astrophotography. This telescope can be used as a spotting scope as well as a camera objective lens. It can be used to observe space, but the main purpose of the telescope is photography. Due to the extra-low dispersion optics and eyepiece that efficiently collects light, this telescope renders a highly contrasting image with a minimum of chromatic distortion. The kit also includes an aluminum case that makes the transportation and storage of the telescope easier. The Levenhuk Ra FT72 ED's main feature is a 2" helical focuser. It is robust and allows for very accurate focusing and smooth movement without backlash. It provides crisper and sharper images than a rack and pinion focuser or even the more advanced Crayford focuser can provide. It is also compatible with heavy accessories. The optical tube has a standard 1/4" thread, so that it is compatible with the most of modern mounts and tripods. To install a SLR camera, you need a special adapter, which is not included in the kit. Features: Apochromatic refractor with extra-low dispersion optics Fully multi-coated lenses render the brightest picture Minimum chromatic distortion, wide field of view, and high contrast Helical focuser provides precise focusing Suitable for professional astrophotography Compatible with 2'' accessories The kit includes: PhotoScope Cleaning wipe Aluminum case Focuser protective cap Eyepiece protective cap User manual and lifetime warranty