Levenhuk Ra 150C Cassegrain OTA
Reflector with a paraboloid primary mirror and a hyperboloid secondary mirror. Aperture: 153mm. Focal length: 1836mm
Levenhuk Ra 150C Cassegrain OTA is a Cassegrain reflector that is perfect for observing deep sky. It features a distinguished design. The primary mirror is paraboloid and the secondary mirror is hyperboloid. Due to this, the transmitted picture has no spherical distortion across the entire field of view up to the maximum magnification. This Optical Tube Assembly (OTA) will be appealing to demanding and experienced users.
The optics are made of quartz glass with an aluminum and silicon dioxide coating. The optical system has a reflectivity index of 92~96%. The dual-speed Crayford focuser has no backlash, so that it enables precise focus adjustments. The optical tube is made of steel, inside there is a high-quality blackening, and on the outside, there are two mounts: for the holder and for mount installation (dovetail plate). Levenhuk Ra 150C Cassegrain OTA is compatible with almost all of the modern mounts.
Please note: Mount, tripod, finder, and eyepieces are not included.
Features:
Reflector with a paraboloid and hyperboloid mirrors
Aluminum and silicon dioxide coating with a reflectivity index of 92~96%
Full absence of spherical aberration
Good correction of astigmatism and field curvature
Dual-speed Crayford focuser, precise and fast adjustment of sharpness
8 internal knife-edge baffles
Drawtube travel: 41mm (laser-engraved millimeter scale)
Backfocus distance: 157.2mm (from end of 2" focuser collar)
The kit includes:
Telescope optical tube
Finder scope base
Dovetail plate
2" Extension ring
1" Extension ring
Dust cover
User manual and lifetime warranty
Levenhuk Ra 150C Cassegrain OTA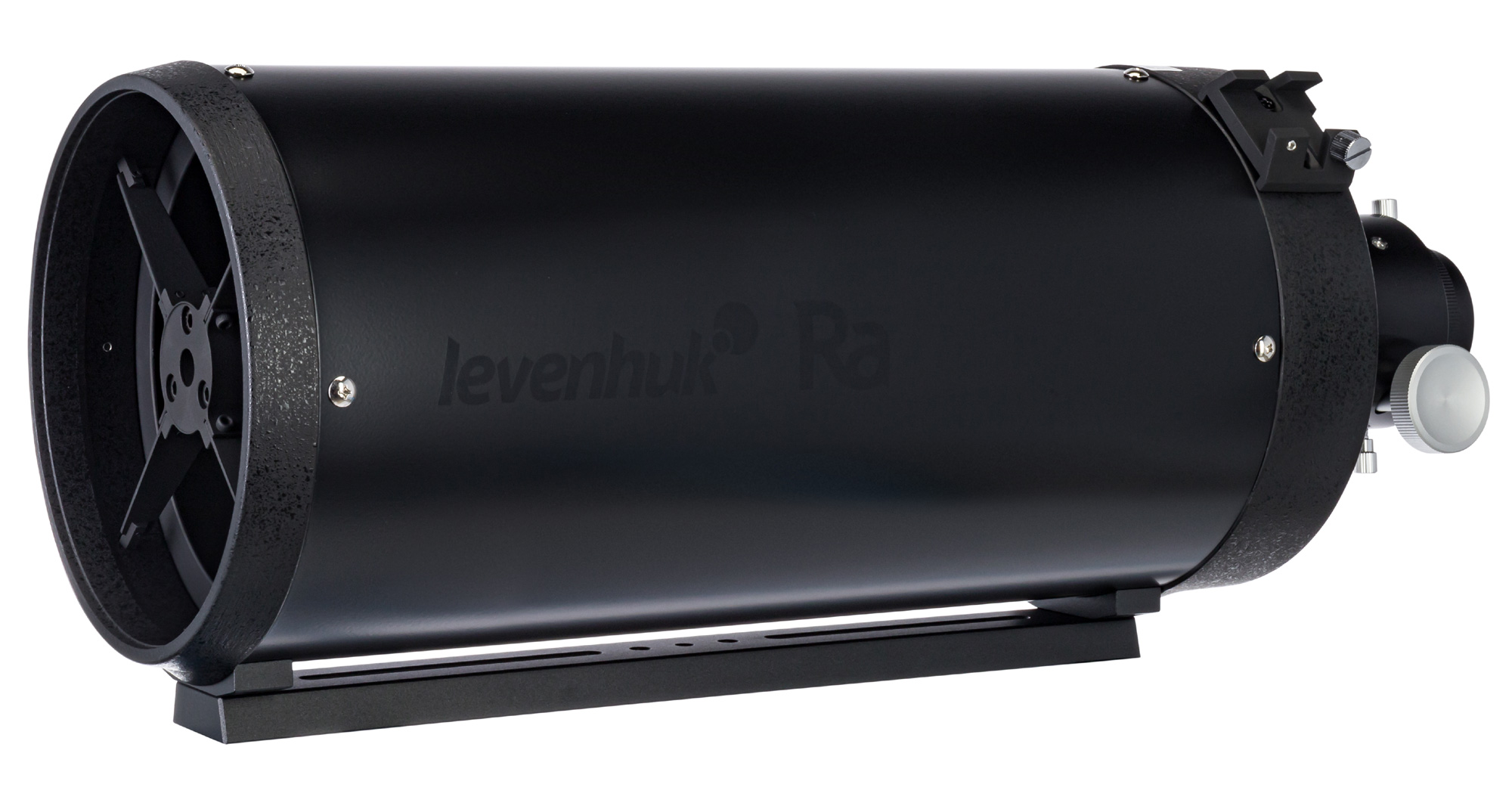 Levenhuk Ra 150C Cassegrain OTA is a Cassegrain reflector that is perfect for observing deep sky. It features a distinguished design. The primary mirror is paraboloid and the secondary mirror is hyperboloid. Due to this, the transmitted picture has no spherical distortion across the entire field of view up to the maximum magnification. This Optical Tube Assembly (OTA) will be appealing to demanding and experienced users. The optics are made of quartz glass with an aluminum and silicon dioxide coating. The optical system has a reflectivity index of 92~96%. The dual-speed Crayford focuser has no backlash, so that it enables precise focus adjustments. The optical tube is made of steel, inside there is a high-quality blackening, and on the outside, there are two mounts: for the holder and for mount installation (dovetail plate). Levenhuk Ra 150C Cassegrain OTA is compatible with almost all of the modern mounts. Please note: Mount, tripod, finder, and eyepieces are not included. Features: Reflector with a paraboloid and hyperboloid mirrors Aluminum and silicon dioxide coating with a reflectivity index of 92~96% Full absence of spherical aberration Good correction of astigmatism and field curvature Dual-speed Crayford focuser, precise and fast adjustment of sharpness 8 internal knife-edge baffles Drawtube travel: 41mm (laser-engraved millimeter scale) Backfocus distance: 157.2mm (from end of 2" focuser collar) The kit includes: Telescope optical tube Finder scope base Dovetail plate 2" Extension ring 1" Extension ring Dust cover User manual and lifetime warranty