Levenhuk Blitz 203 PLUS Telescope
Newtonian reflector. Aperture: 203mm. Focal length: 800mm
The Levenhuk Blitz 203 PLUS telescope is a powerful, high-aperture optical instrument for observing space and astrophotography. It is designed for the ambitious beginner who wants to explore all of the secrets of the universe. The telescope renders a great image of nebulae and star clusters as well as allows you to view the planets of the solar system and their satellites. As the lunar filter is included, it is ideal for Moon observations.
The telescope uses a Newtonian reflector scheme, it features a spherical primary mirror. Due to the short focal length, the optics deliver a crisp and bright field of view. High aperture allows you to use the telescope for astrophotography. The lenses are made of optical glass with an anti-reflective coating. All of this ensures the transmission of a clear and crisp image.
The equatorial mount is moved smoothly and softly; the optical tube is attached reliably and durably. The tripod is made of aluminum; it stands securely even on rough ground. The tripod height is adjustable. You can install an accessory tray in the middle of it.
Features:
High-aperture Newtonian reflector
Suitable for observations and astrophotography
Ideal for deep sky exploration
Reinforced hand-operated equatorial mount
The kit includes:
Telescope optical tube
PL 6.5mm eyepiece
PL 25mm eyepiece
Finder 6x30
Equatorial mount
Slow-motion control knobs
Counterweight bar
Counterweight
Tube ring
Aluminum mount with an accessory tray
Lunar filter
User manual and lifetime warranty
Levenhuk Blitz 203 PLUS Telescope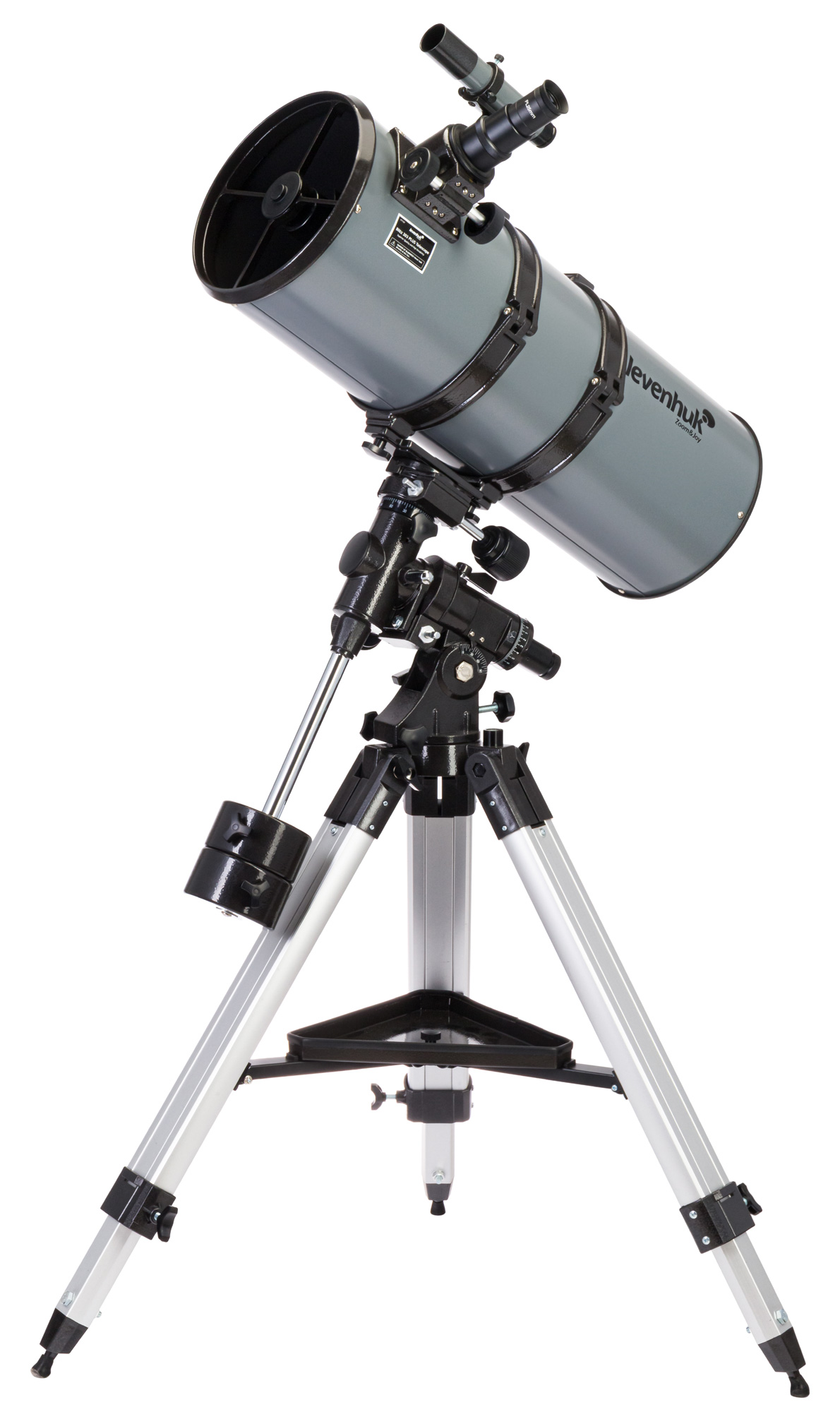 The Levenhuk Blitz 203 PLUS telescope is a powerful, high-aperture optical instrument for observing space and astrophotography. It is designed for the ambitious beginner who wants to explore all of the secrets of the universe. The telescope renders a great image of nebulae and star clusters as well as allows you to view the planets of the solar system and their satellites. As the lunar filter is included, it is ideal for Moon observations. The telescope uses a Newtonian reflector scheme, it features a spherical primary mirror. Due to the short focal length, the optics deliver a crisp and bright field of view. High aperture allows you to use the telescope for astrophotography. The lenses are made of optical glass with an anti-reflective coating. All of this ensures the transmission of a clear and crisp image. The equatorial mount is moved smoothly and softly; the optical tube is attached reliably and durably. The tripod is made of aluminum; it stands securely even on rough ground. The tripod height is adjustable. You can install an accessory tray in the middle of it. Features: High-aperture Newtonian reflector Suitable for observations and astrophotography Ideal for deep sky exploration Reinforced hand-operated equatorial mount The kit includes: Telescope optical tube PL 6.5mm eyepiece PL 25mm eyepiece Finder 6x30 Equatorial mount Slow-motion control knobs Counterweight bar Counterweight Tube ring Aluminum mount with an accessory tray Lunar filter User manual and lifetime warranty