Explore Scientific ED APO 152mm FCD-1 CF HEX Telescope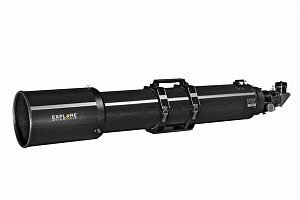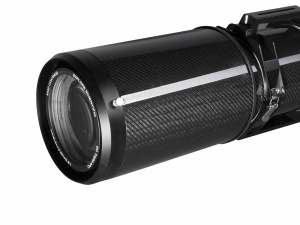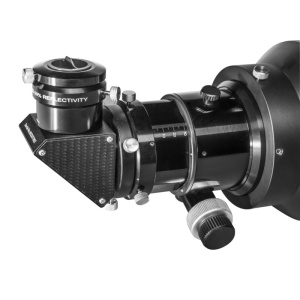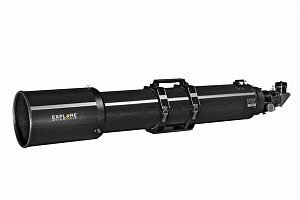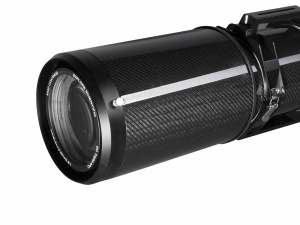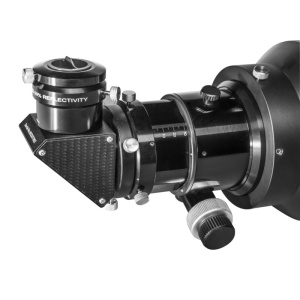 Apochomatic refractor. Objective lens diameter: 152mm. Focal length: 1216mm
An exceptional triplet ED-apochromat 152/1216mm refractor with carbon fibre tube and 3" Hexafoc focuser. The Explore Scientific ED APO 152mm refractor with carbon fibre tube, is supplied with Explore Scientific's 8x50mm right angled optical finder (with variable illuminated reticule), a 2" 99% reflectivity star diagonal and excellent flight case.
The weight of any optical system is critical in use – especially when it comes to imaging. The lighter your telescope is, the less stress it will put on your mount and this will have beneficial effects on tracking. To this end, Explore Scientific have equipped this beautiful three lens apochromat with a carbon fibre tube, making it is light as is physically possible, without compromising mechanical or optical performance. This results in a featherweight assembly of only 10.2kg, including the tube rings and dew shield – almost 4kg less than an aluminum equivalent. The tube length was optimized to enable the use of accessories with critical demands on back-focus. The three lens optical design features Hoya FCD01-ED special glass and two air spaces. This lens performs on a level that is significantly higher than that of the a doublet ED system of similar size. A calculated polystrehl of greater than 0.9 (often better than 0.95) delivers a much more colour aberration-free image than the 0.8x that would be possible with a two lens design. The lens system is coated in Explore's proprietary Enhanced Multilayer Desposition (EMD) coatings, which minimize internal and external reflections, leading to brighter, higher contract views and images.
The system is supplied in a great quality flight case, which provides better than ample protection of the telescope for transportation and storage.
Any telescope is only as good as its focuser and Explore Scientific have fitted an exceptional one to this telescope. The ED Apo 152's big 3" Hexafoc focuser has a hexagonal cross section drawtube, which provides shift-free lateral support of large accessory payloads, ensuring perfect centering of accessories, both visual and astrophotographic. The focuser also features a low profile rack and pinion gear train, which enables the support of much greater payloads at altitude than would be possible when using an equivalent Crayford-style friction roller focuser. A 10:1 reduction dual speed focuser knob allows for both course and very fine focusing – enabling the user to reach critical focus easily and smoothly. The generous 3" internal aperture of the drawtube avoids vignetting when imaging, especially if used with large focal reducers.
Features:
Optical tube assembly with retractable dew shield
3" Hex focuser with 1:10 dual speed gears
3" to 2" step-down ring
2" 99% diagonal
Extension tube for focuser
Three lens air-spaced ED-apochromat
High-end flight case with wheels
3" Hexafoc focuser with 10:1 reduction
The kit includes:
Optical tube assembly
Case
Accessories
Tube rings with handle (handle features mounting place for cameras)
3" Losmandy dovetail plate
Explore Scientific ED APO 152mm FCD-1 CF HEX Telescope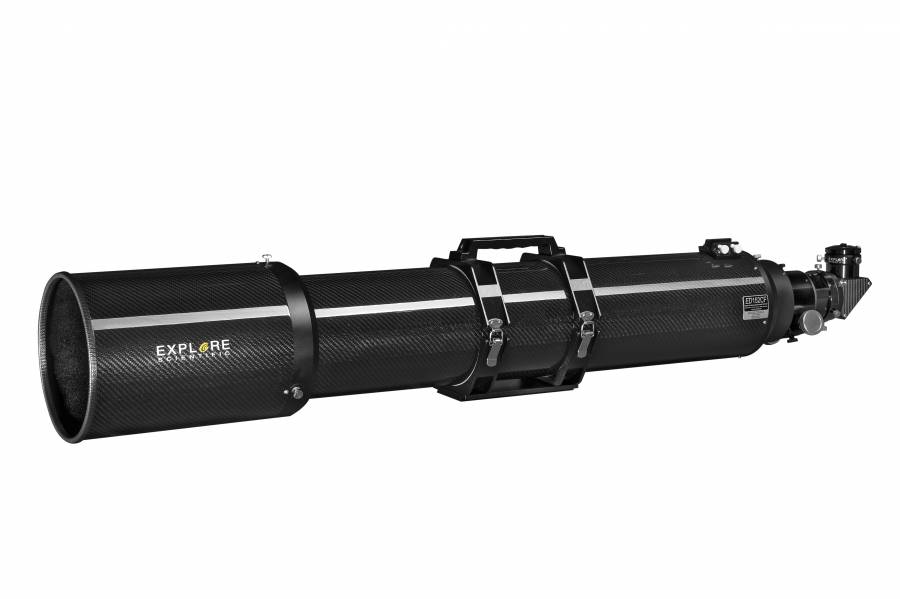 An exceptional triplet ED-apochromat 152/1216mm refractor with carbon fibre tube and 3" Hexafoc focuser. The Explore Scientific ED APO 152mm refractor with carbon fibre tube, is supplied with Explore Scientific's 8x50mm right angled optical finder (with variable illuminated reticule), a 2" 99% reflectivity star diagonal and excellent flight case. The weight of any optical system is critical in use – especially when it comes to imaging. The lighter your telescope is, the less stress it will put on your mount and this will have beneficial effects on tracking. To this end, Explore Scientific have equipped this beautiful three lens apochromat with a carbon fibre tube, making it is light as is physically possible, without compromising mechanical or optical performance. This results in a featherweight assembly of only 10.2kg, including the tube rings and dew shield – almost 4kg less than an aluminum equivalent. The tube length was optimized to enable the use of accessories with critical demands on back-focus. The three lens optical design features Hoya FCD01-ED special glass and two air spaces. This lens performs on a level that is significantly higher than that of the a doublet ED system of similar size. A calculated polystrehl of greater than 0.9 (often better than 0.95) delivers a much more colour aberration-free image than the 0.8x that would be possible with a two lens design. The lens system is coated in Explore's proprietary Enhanced Multilayer Desposition (EMD) coatings, which minimize internal and external reflections, leading to brighter, higher contract views and images. The system is supplied in a great quality flight case, which provides better than ample protection of the telescope for transportation and storage. Any telescope is only as good as its focuser and Explore Scientific have fitted an exceptional one to this telescope. The ED Apo 152's big 3" Hexafoc focuser has a hexagonal cross section drawtube, which provides shift-free lateral support of large accessory payloads, ensuring perfect centering of accessories, both visual and astrophotographic. The focuser also features a low profile rack and pinion gear train, which enables the support of much greater payloads at altitude than would be possible when using an equivalent Crayford-style friction roller focuser. A 10:1 reduction dual speed focuser knob allows for both course and very fine focusing – enabling the user to reach critical focus easily and smoothly. The generous 3" internal aperture of the drawtube avoids vignetting when imaging, especially if used with large focal reducers. Features: Optical tube assembly with retractable dew shield 3" Hex focuser with 1:10 dual speed gears 3" to 2" step-down ring 2" 99% diagonal Extension tube for focuser Three lens air-spaced ED-apochromat High-end flight case with wheels 3" Hexafoc focuser with 10:1 reduction The kit includes: Optical tube assembly Case Accessories Tube rings with handle (handle features mounting place for cameras) 3" Losmandy dovetail plate