Levenhuk 500M Monocular Microscope
Magnification: 40–400x. Monocular head, achromatic objectives, halogen light with a collector
The Levenhuk 500M laboratory microscope is a perfect choice for work in the field of histology or any other microscopy research that requires staining samples. Due to halogen lighting, the microscope delivers brighter colors and makes observed microscope slides more contrasted. This microscope is excellent for any bright field microbiological research in incident light.
A monocular head is conveniently inclined at 45° and is 360° rotatable. A wide-field eyepiece with 10x magnification provides a good view. The achromatic objectives magnify 4, 10, and 40 times. The 40x objective is also equipped with a protective spring-loaded front lens frame. The microscope magnification varies from 40 to 400 times, which is excellent for studying large and medium-sized structures.
The microscope stage is equipped with standard clips. Next to the stage, there are coarse and fine focusing knobs. The lighting unit is located at the bottom, right under the bright field condenser with an iris diaphragm and a filter holder. The lighting consists of a halogen bulb with a collector; the brightness is adjustable. The lighting is powered by an AC power supply.
Features:
Rotatable monocular head inclined at 45°
Wide-field achromatic optics with 40–400x magnification
Lower halogen lighting with a collector and brightness adjustment
AC power supply
Reliable metal body
Slot for installing an analyzer (an analyzer is not included)
The kit includes:
Microscope
4x, 10x, 40xs achromatic objectives
WF10x/18mm eyepiece (1 pc.) with a pointer
Condenser N.A. 0.65 with an iris diaphragm and a filter holder
Filters: blue, green, yellow
Fuse
Power cord
Dust cover
User manual and lifetime warranty
Levenhuk 500M Monocular Microscope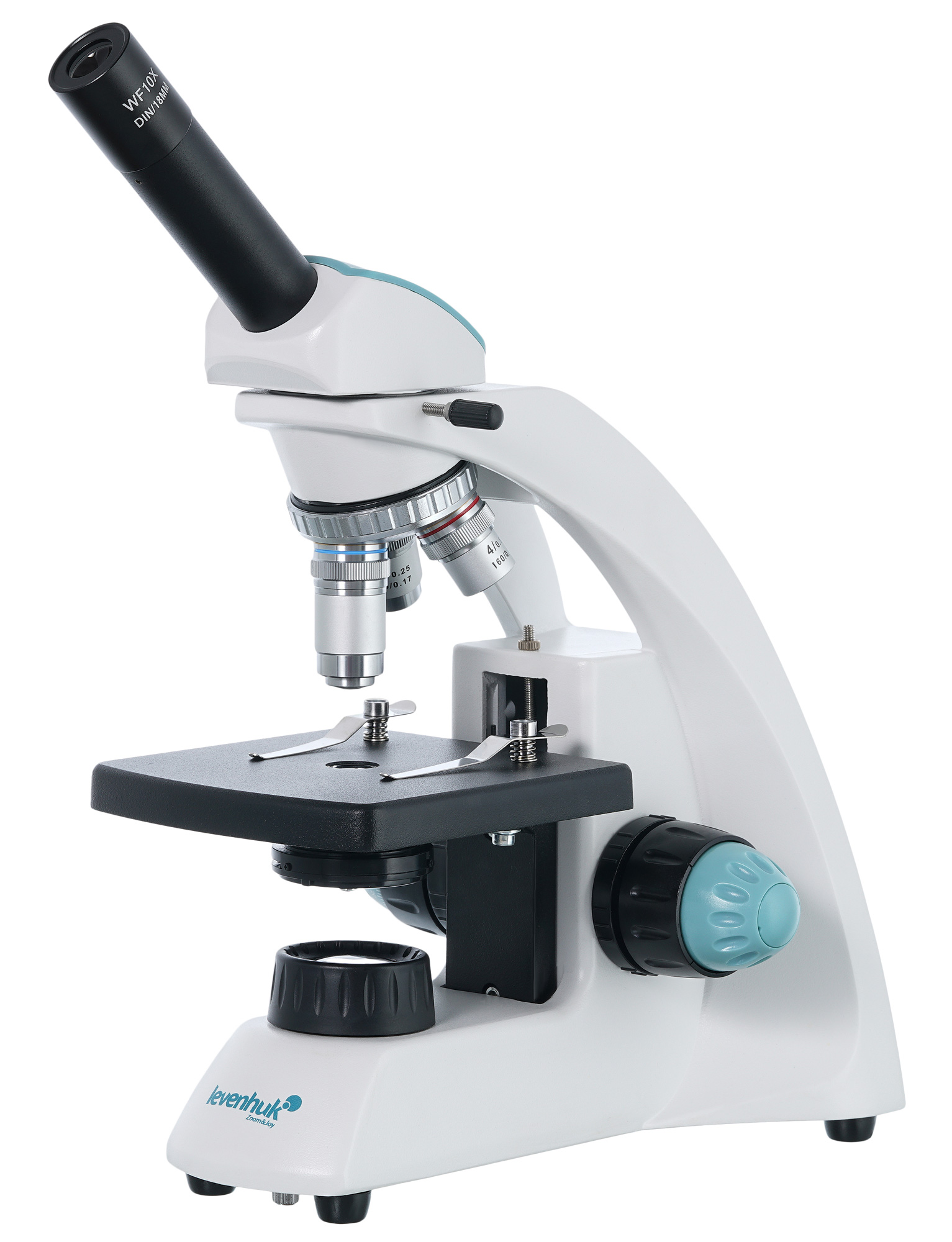 The Levenhuk 500M laboratory microscope is a perfect choice for work in the field of histology or any other microscopy research that requires staining samples. Due to halogen lighting, the microscope delivers brighter colors and makes observed microscope slides more contrasted. This microscope is excellent for any bright field microbiological research in incident light. A monocular head is conveniently inclined at 45° and is 360° rotatable. A wide-field eyepiece with 10x magnification provides a good view. The achromatic objectives magnify 4, 10, and 40 times. The 40x objective is also equipped with a protective spring-loaded front lens frame. The microscope magnification varies from 40 to 400 times, which is excellent for studying large and medium-sized structures. The microscope stage is equipped with standard clips. Next to the stage, there are coarse and fine focusing knobs. The lighting unit is located at the bottom, right under the bright field condenser with an iris diaphragm and a filter holder. The lighting consists of a halogen bulb with a collector; the brightness is adjustable. The lighting is powered by an AC power supply. Features: Rotatable monocular head inclined at 45° Wide-field achromatic optics with 40–400x magnification Lower halogen lighting with a collector and brightness adjustment AC power supply Reliable metal body Slot for installing an analyzer (an analyzer is not included) The kit includes: Microscope 4x, 10x, 40xs achromatic objectives WF10x/18mm eyepiece (1 pc.) with a pointer Condenser N.A. 0.65 with an iris diaphragm and a filter holder Filters: blue, green, yellow Fuse Power cord Dust cover User manual and lifetime warranty