Levenhuk Zeno 400 LED Magnifier, 2/4x, 88/21mm, Metal
Magnification: 2/4x. Lens diameter: 88/21mm. LED light
Levenhuk Zeno 400 LED Magnifier is a modern magnifier with two lenses and built-in illumination. The main lens yields a 2x magnification, while the 4x inset lens allows you to see even more details on engravings and texts. The inset lens is located to the side of the main lens.
The main lens is 88 mm (3.5 in) in diameter and allows you to study rather large objects or prints. Two built-in LED lights provide even illumination of the observed object, preventing eye strain during lengthy use. They are powered by two AA batteries – supplied with the magnifier – that will serve you for many years to come. To switch the illumination on or off, use the rubber button on the side of the handle.
The lightweight and elegant design of the magnifier is set to impress with its rimless lens and silver-colored metal handle that provides for a firm and comfortable grip.
The kit includes:
Levenhuk Zeno Magnifier
2 AA batteries
Storage case
Cleaning wipe
User manual and lifetime warranty
Levenhuk Zeno 400 LED Magnifier, 2/4x, 88/21mm, Metal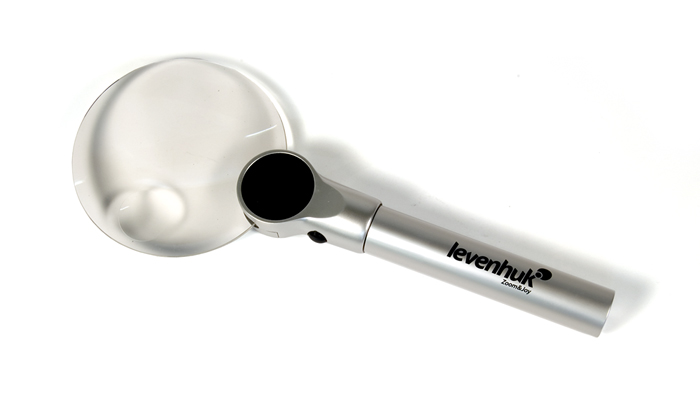 Levenhuk Zeno 400 LED Magnifier is a modern magnifier with two lenses and built-in illumination. The main lens yields a 2x magnification, while the 4x inset lens allows you to see even more details on engravings and texts. The inset lens is located to the side of the main lens. The main lens is 88 mm (3.5 in) in diameter and allows you to study rather large objects or prints. Two built-in LED lights provide even illumination of the observed object, preventing eye strain during lengthy use. They are powered by two AA batteries – supplied with the magnifier – that will serve you for many years to come. To switch the illumination on or off, use the rubber button on the side of the handle. The lightweight and elegant design of the magnifier is set to impress with its rimless lens and silver-colored metal handle that provides for a firm and comfortable grip. The kit includes: Levenhuk Zeno Magnifier 2 AA batteries Storage case Cleaning wipe User manual and lifetime warranty