Homeschool Microscope & Experiment Kit
Tested By Amy, for Educents.com. Find the original review here at Educents.com.
Homeschool Mom, Amy, reviews the Levenhuk 50L Plus Microscope Kit with her son and discovers a high-quality, powerful microscope and ready to go experiment kit that kicks their science lessons up a notch.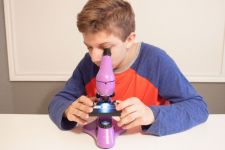 There's nothing that makes science come alive more than seeing it or doing it yourself. Sometimes that can be challenging, especially when you want to get in close – real close! Whether you are a teacher, homeschooling or just have a science lover in your family it can be difficult to find a great quality microscope that doesn't cost and arm and a leg. When I was presented with the opportunity to review a microscope I jumped at the opportunity.
As a homeschooling mom to a middle school student, I want to make sure he is learning all of the science concepts in a hands-on way. We tried the inexpensive "toy" microscope but honestly, the quality just wasn't there and the construction left a lot to be desired. I've spent hours searching for a good microscope only to feel like a good quality microscope is out of our budget. Then we received the Levenhuk 50L Plus microscope.
High-Quality Microscope for Under $100
The Levenhuk 50L Plus is a high quality microscope at an affordable price of less than $100. It is built to last with a metal body that will withstand the normal use and movement (probably more than normal use too). Everything is put together really well and I appreciate that the knobs and lens don't move too easily. There is a slight resistance that helps keep everything in focus, even if the microscope gets bumped. This makes it perfect for beginners, little hands and busy bodies. This microscope also comes with a hard case and an experiment kit to help you get started. It really has everything you need for some serious, microscopic fun!
Unboxing the Kit
Upon taking the microscope out of the box, it was very easy to put together. Simply insert the eye-piece and choose your power source. The microscope can be used with batteries or the included AC adapter. We preferred connecting to electricity because the lights were a little brighter than with battery use, but both options provided enough light for great viewing. I love that battery is an option because it would be so easy to grab the microscope case and head to the park for a day of science. Everything you'd need, including blank slides, tweezers, and eye dropper, and a specimen slicer, would be together in the case and ready to go. The microscope is not heavy or bulky and in the case would be easy to store or travel with.
This microscope comes with double LED illumination. It has the typical light under the slide plate, but also a second light above the slide plate that shines down on the slide. To really see well using a microscope you must have good light, and the Levenhuk microscope has it! Once we got set-up it was time to start checking things out.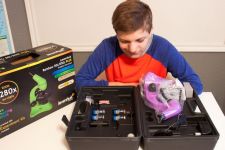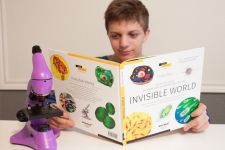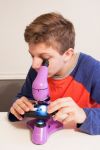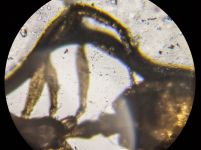 Ready to Go Experiments
We first started with the prepared slides that were included in the experiment kit. These slides were amazing and gave us good insight into the quality of the microscope. Then we began venturing out and creating our own slides using anything and everything we could find.
Following the instructions in the provided manuals we were able to wet mount and view hair samples, a wing from a dead lady bug and even a tiny ant!
The clarity from this microscope was exceptional and so much more than what I expected from a microscope in this price range. The manuals that come with the kit have so much information that guide you through microscope skills well beyond a beginner level. As a homeschooling mom, I know that I will be able to make many lessons just from that manual alone!
Supplemental Book Provides Hours of Fun
We also received the book Invisible World by Oksana Mazur and Levenhuk Press. This is one amazing book that is not only filled with exceptional photographs, but also more than 80 pages of facts and experiments.
The book starts with a detailed history of the microscope and then goes into very important safety rules for using it properly. There are sections in the book for single celled organisms, plants, animals, parasites, life in water, and much more. Hours of microscopic fun are sure to stem from this book.
Whether you are a homeschooling mom like me or just know someone that loves science, I would highly recommend the Levenhuk 50L Plus microscope. Did I mention it comes in 5 amazing colors too? Check them out here! You can find this amazing microscope and more amazing Levenhuk products and accessories on the Educents site! I'm already checking out the telescopes!
About the author
Amy is a homeschooling mom and former teacher. Don't miss her Educents Storefront, Teaching in Blue Jeans, where you can find hundreds of print and go resources that take a multi-sensory approach to learning.