Eye under a microscope: insects' photo
01.03.2019
Human eye under a microscope is a whole universe of colors and complicated structures. The higher the microscope magnification, the more small details you can see. However, it is almost impossible to get such a specimen for an amateur biologist to study. Prepared sets of slides usually include nerve and muscle fibers, human skin, and human hair – but not eyes. For example, Levenhuk N80 NG "See it all" Slides Set includes 19 prepared specimens of human organs, but even in this set you will not find such a rare specimen.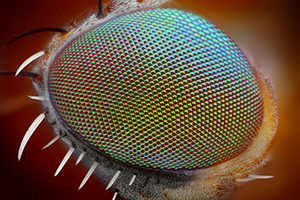 Let's unravel a mystery: you can study an eye under a microscope. Insects' and arachnids' eyes are also interesting objects to explore. It is not difficult to catch a fly, mosquito or a spider. A few minutes – and you will see a whole universe in the objective lens of a microscope. It is interesting that insects and arachnids have different eye structures. Flies have compound eyes, while spiders' eyes look like large glossy beads.
You can observe insects and arachnids at 50x-100x magnification, but you can get a more detailed image using optics with 800x or 1000x magnification. You can take photos of their eyes with a digital microscope, for example, the one of an ant eye under a microscope – you can see the photo above.
We recommend that you acquire a modern digital or optical microscope for studying the micro world. You will be able to explore all popular areas in the amateur research field. You can examine life in a water drop, study prepared microscope slides, and perform scientific experiments at home. Contact us and we will help you find an ideal optical tool that will perform all these tasks.
---
Any reproduction of the material for public publication in any information medium and in any format is prohibited. You can refer to this article with active link to levenhukb2b.com.
The manufacturer reserves the right to make changes to the pricing, product range and specifications or discontinue products without prior notice.