Opera Binoculars Buying Guide
01.11.2014
If you consider yourself a connoisseur of art, maybe you are an assiduous frequenter of the theater and opera, then you should definitely pay a little attention to this article. Here I'd like to share with you some information on a very valuable accessory for theater and opera goers – opera binoculars. When you choose theater binoculars you should pay attention to not only their attractive appearance (which is important) but also think about such crucial characteristics as magnification, focusing abilities, presence of illumination, body and optics materials, and so on. This short review will explain the main points and facilitate your choice.
Design: most of opera glasses are simple Galilean binoculars
Opera glasses are Galilean binoculars with a central focusing system. They are very compact so you won't disturb other art enthusiasts sitting next to you. They fit perfectly even into the smallest purse. Modern opera glasses combine the newest technology, first-class materials with the classic design of 19th century theater binoculars. You also need to think about their weight, another important characteristic of opera glasses. Sometimes the abundance of decorative elements makes them a little heavy. When choosing a pair of binoculars, make sure that they can be held comfortably in your hand, and you won't get tired quickly. Opera binoculars can be made of plastic, metal and wood as well as gold, elephant tusk, shells and other expensive materials.
There are two main types of opera glasses: lorgnettes (opera binoculars with handle) and classic theater binoculars with a chain.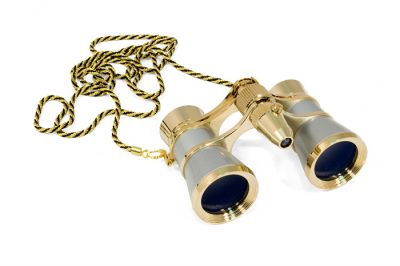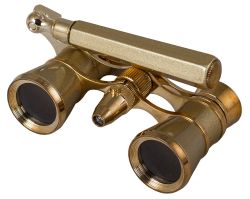 Magnification and Field of View: looking for medium magnification and wide field of view
As I already mentioned above, the technical characteristics should be considered foremost. The most significant features are magnification power and field of view. Almost all opera glasses feature 3x magnification. Why? The explanation is simple – 3x magnification power allows you to see the tiniest details of the performance without any distortions. Greater increase would cause image-shake. Field of view is another important characteristic you should keep in mind when choosing opera glasses. Field of view is the area that you see when looking through eyepieces. A narrow field of view won't let you to see all the stage at once.
Levenhuk opera binoculars review: opera binoculars cheap and cheerful as they are meant to be!
There is a huge variety of opera binoculars for sale on the market: affordable opera binoculars and expensive ones, sophisticated models, classical and modern, new and vintage. The main thing is to not get confused and find the right model that will meet your needs.
Choosing a pair of binoculars for myself, I had the opportunity to compare a variety of brands and models. In this opera glasses review I would like to point out opera binoculars manufactured by Levenhuk. Levenhuk is one of the most popular companies that offer quality optical equipment. It confidently takes a market-leading position in the United States and Europe.
So I chose one of the models - Levenhuk Broadway 325F Opera Glasses (gold, with LED light and chain).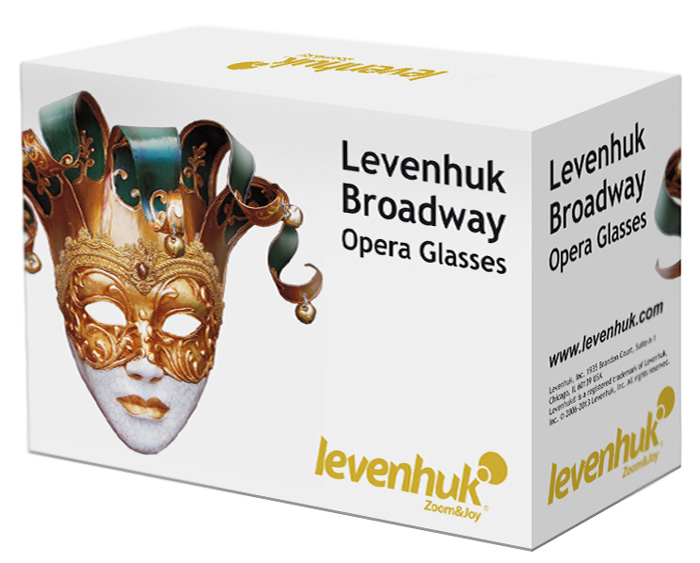 The packaging was very neat, but a bit tatty. But when I opened the box, I was amazed at how gorgeous and classy the opera glasses looked.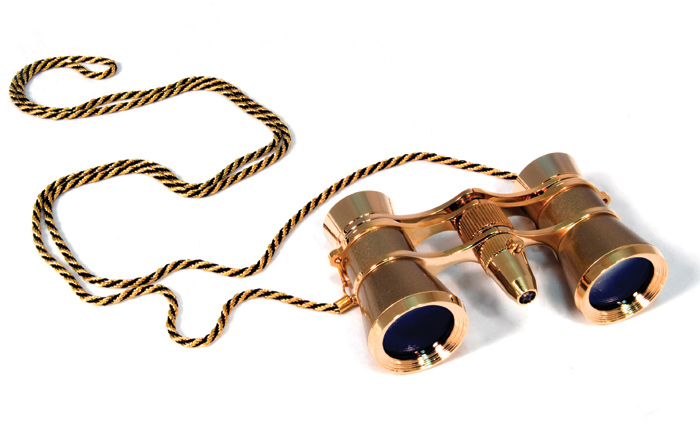 The opera glasses have a classic design. A removable chain is attached to the binoculars, which is very convenient - you can be sure you won't inadvertently leave them after the end of the performance.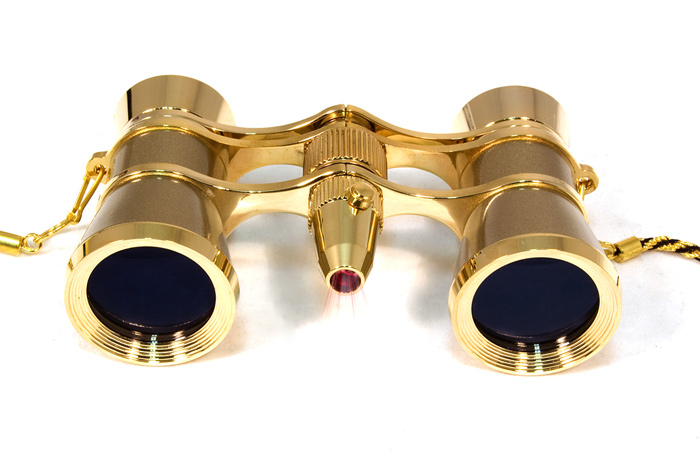 This model is equipped with LED illumination. You will undoubtedly appreciate this feature when you want to read a brochure or find your seat in a dark theater hall.
Generally speaking, I can only praise Levenhuk opera binoculars for being compact, lightweight and stylish. 3x magnification allows you to see actors' faces, minute changes in expression, and scenery in detail. Fully multi-coated optics provide unmatched clarity. These opera glasses come with a pouch, and a special soft cleaning cloth.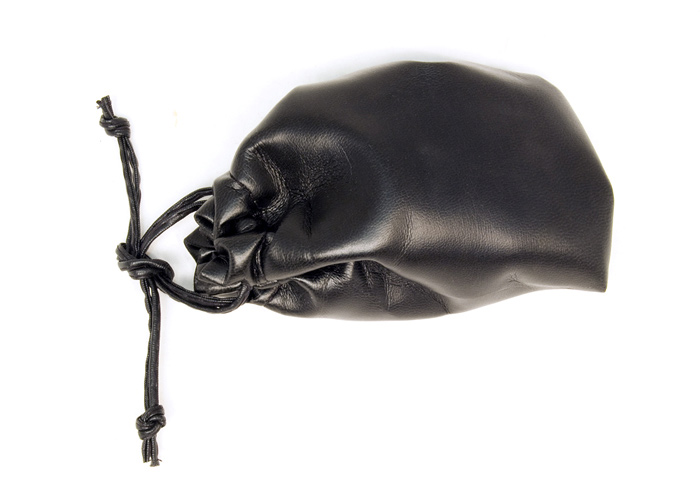 Levenhuk opera glasses let you adjust the interpupillary distance to match the distance between the pupils of your eyes. A convenient central focusing wheel allows you to quickly and easily adjust the sharpness.
Conclusion
To summarize, I remind you that, when choosing binoculars, you need to pay attention to many things: magnification power, field of view, illumination, optics, and weight. A wide choice allows you to find quality opera binoculars for your taste and budget. Choose the right model and enjoy the performance!
---
Any reproduction of the material for public publication in any information medium and in any format is prohibited. You can refer to this article with active link to levenhukb2b.com.
The manufacturer reserves the right to make changes to the pricing, product range and specifications or discontinue products without prior notice.