Discovery Star Sky P7 Planetarium
Rotating crystal-shaped starry sky projector. Color selectable lights function, remote control, and built-in battery
Discovery Channel informs, entertains and inspires its audiences around the globe about the world in all its wonder, diversity and amazement. Offering millions of people the chance to discover, and satisfy their curiosity, Discovery offers a compelling mix of stories across genres including science and technology, exploration, adventure, history and in depth behind-the-scenes glimpses at the people, places and organisations that shape and share the world we live in.
We proudly present the Discovery optics series that is produced by Levenhuk and endorsed by Discovery.
---
Discovery Star Sky P7 is an astroplanetarium with a stylish design that looks like a magic crystal. It can project an image of the starry sky on the walls and the ceiling, change the color of the projection lights, and rotate the images – all of which can be remote controlled. This device will impress your guests and it will be a perfect gift idea for any cool gadget fans. The starry sky background is a great choice for finding relaxation at home, a cosmos-themed party, or a photoshoot. The advanced settings enable brightness adjustment and the time off.
The remote control can adjust the projection brightness, select its color, and make the stars and constellations rotate. To get a high contrast and clear image, it is necessary to start the projection with the lights off and place the device 1.5–2 meters (5–7 feet) away from a light-colored surface (the ceiling or a wall). The Discovery Star Sky P7 astroplanetarium can also function as a wireless device due to its built-in rechargeable battery: up to 12 hours of battery life with one LED; up to 6 hours of battery life with three LEDs. A full charge takes 3–4 hours; there is a charge indicator on the base of the device.
Please note: the USB-port voltage of the PC is insufficient for the device to work efficiently. It is necessary to connect the device to the power supply: you can use a micro-USB cable (included), an AC adapter, or a USB smartphone charger.
Key features:
Its unique crystal shape makes it a perfect gift
Color selectable projection lights and rotation options
Brightness control and timer settings
Button control placed on the base of the device or a console
Built-in rechargeable battery: up to 12 hours of battery life on a wireless mode
The kit includes:
Base with a built-in rechargeable battery
Body (component parts)
Micro-USB connector
Remote control
User manual and warranty card
| Specifications | |
| --- | --- |
| Modes | the starry sky (the stars and nebulae) |
| Light source | LEDs |
| Optimal distance to projection, m/ft | 1.5–2/5–7 |
| Projected area, m2/ft2 | 12/130 |
| Timer | 15 min., 30 min., 60 min. |
| Remote control | + (included) |
| Adjustable parameters | projection color and brightness |
| Power supply | planetarium: Li-ion battery 18650, 1500mA⋅h, micro-USB 5V, 1A (an additional power adapter or a smartphone charger is required); remote control: CR2025 battery – 1 pc. (not included) |
| Battery runtime, h | 6–12 |
| Battery charging time, h | 3–4 |
| Additional option | rotation and charge indicator options |
Discovery Star Sky P7 Planetarium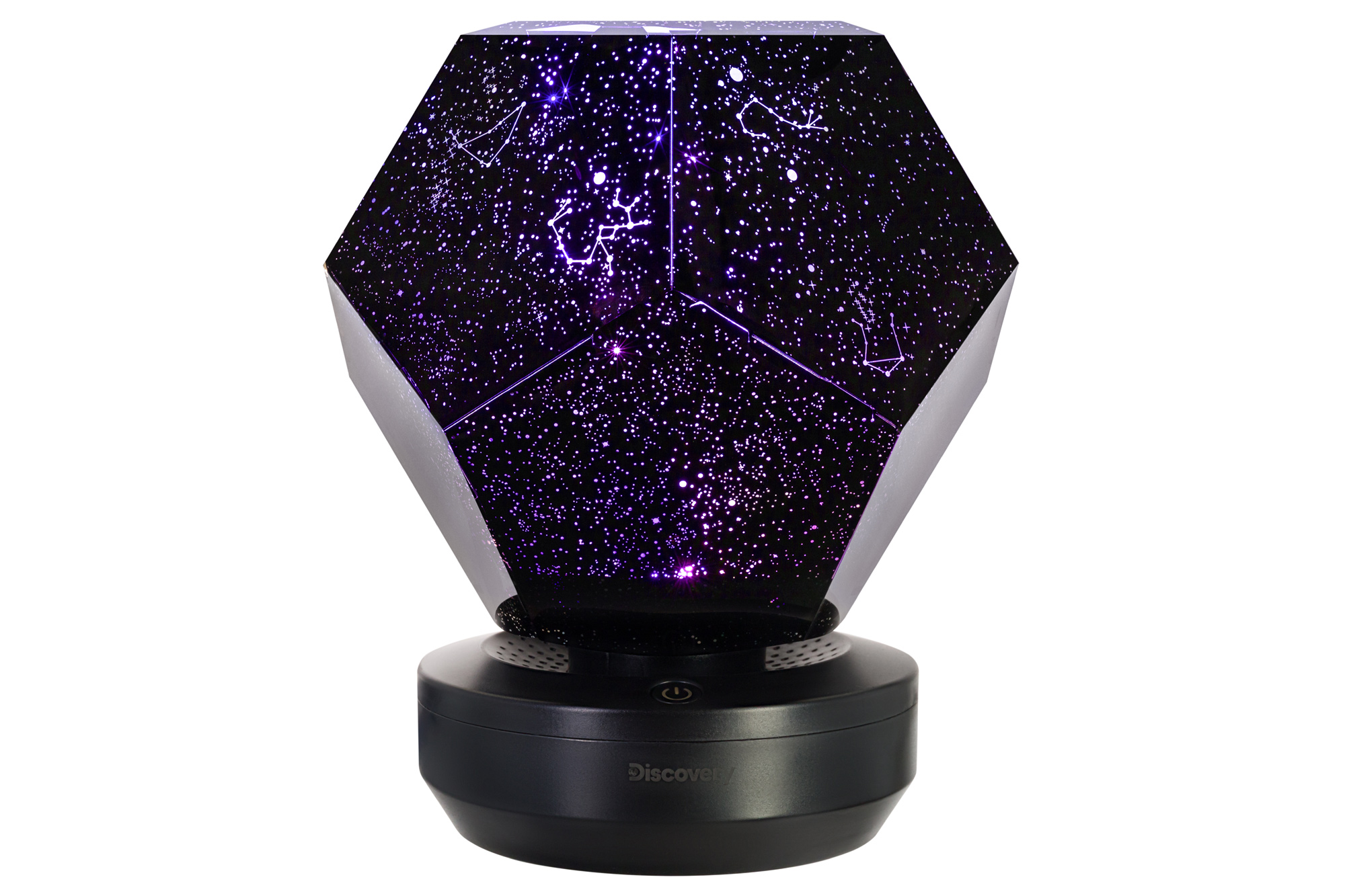 {: style="border:0px; margin-bottom: -5px; width:15%;" } Discovery Channel informs, entertains and inspires its audiences around the globe about the world in all its wonder, diversity and amazement. Offering millions of people the chance to discover, and satisfy their curiosity, Discovery offers a compelling mix of stories across genres including science and technology, exploration, adventure, history and in depth behind-the-scenes glimpses at the people, places and organisations that shape and share the world we live in. We proudly present the Discovery optics series that is produced by Levenhuk and endorsed by Discovery. Discovery Star Sky P7 is an astroplanetarium with a stylish design that looks like a magic crystal. It can project an image of the starry sky on the walls and the ceiling, change the color of the projection lights, and rotate the images – all of which can be remote controlled. This device will impress your guests and it will be a perfect gift idea for any cool gadget fans. The starry sky background is a great choice for finding relaxation at home, a cosmos-themed party, or a photoshoot. The advanced settings enable brightness adjustment and the time off. The remote control can adjust the projection brightness, select its color, and make the stars and constellations rotate. To get a high contrast and clear image, it is necessary to start the projection with the lights off and place the device 1.5–2 meters (5–7 feet) away from a light-colored surface (the ceiling or a wall). The Discovery Star Sky P7 astroplanetarium can also function as a wireless device due to its built-in rechargeable battery: up to 12 hours of battery life with one LED; up to 6 hours of battery life with three LEDs. A full charge takes 3–4 hours; there is a charge indicator on the base of the device. Please note: the USB-port voltage of the PC is insufficient for the device to work efficiently. It is necessary to connect the device to the power supply: you can use a micro-USB cable (included), an AC adapter, or a USB smartphone charger. Key features: Its unique crystal shape makes it a perfect gift Color selectable projection lights and rotation options Brightness control and timer settings Button control placed on the base of the device or a console Built-in rechargeable battery: up to 12 hours of battery life on a wireless mode The kit includes: Base with a built-in rechargeable battery Body (component parts) Micro-USB connector Remote control User manual and warranty card Specifications Modes the starry sky (the stars and nebulae) Light source LEDs Optimal distance to projection, m/ft 1.5–2/5–7 Projected area, m2/ft2 12/130 Timer 15 min., 30 min., 60 min. Remote control + (included) Adjustable parameters projection color and brightness Power supply planetarium: Li-ion battery 18650, 1500mA⋅h, micro-USB 5V, 1A (an additional power adapter or a smartphone charger is required); remote control: CR2025 battery – 1 pc. (not included) Battery runtime, h 6–12 Battery charging time, h 3–4 Additional option rotation and charge indicator options