Overview of Levenhuk Strike PLUS telescopes
In this review you will find detailed descriptions of telescopes in the Levenhuk Strike PLUS series, the main advantages of these instruments, their distinctive features and some helpful advice on how to choose the right Strike PLUS model suitable for you and your astronomy needs.
All Levenhuk Strike PLUS telescopes are designed for beginning and amateur astronomers and are perfect for kids and teenagers. These telescopes are great for family observations when both children and their parents can enjoy fascinating views of the starry sky. Levenhuk Strike PLUS telescopes come with even more additional accessories than telescopes from the popular Levenhuk Strike NG series, the junior series in the Levenhuk Strike product line. Let's take a look at what is included in the extensive kit of Levenhuk Strike PLUS telescopes.
The kit is far more advanced than you would expect
| | | |
| --- | --- | --- |
| | 1. "See it all!" Astronomer's Handbook. This practical handbook will help any amateur plan and then enjoy stargazing. Written by a renowned expert, Alexander Shimbalev, it guides you through your first steps on the road to amazing discoveries. The book includes a number of star charts, listing the most interesting celestial objects. Commentaries help you orient yourself to the observation object and set up the telescope properly. Large-format prints showing the constellations and objects give you a preview of what the object should look like during your observations. This book takes you on a journey through the celestial sphere, where you will learn about 280 celestial objects and how to quickly locate them in the night sky, study the lunar surface, and observe the planets of the Solar System. | |
| | 2. Stellarium is 3D planetarium software that allows you to see everything you can observe through a medium- or even high-powered telescope, including over 600,000 stars, planets of the Solar System, the Moon, nebulae and Milky Way galaxy. This software is capable of recreating a realistic sky in real time, providing you with panoramic views and allowing you to observe sunsets and sunrises, eclipses and comets without leaving your home. Now you can observe the sky even when it is raining cats and dogs outside. | |
| | 3. Space Posters Set (Moon, Sun and Other Stars, Solar System). These high-quality colorful posters contain interesting information about celestial bodies. Illustrations and captions present this information in an easy-to-read format. The posters are 84x60 cm (33x24 in). | |
| | 4. Planisphere. This is a rotating star chart that helps you quickly and easily determine what celestial objects may be observed at a given date and time. It allows you to locate specific constellations or other objects at certain latitudes for your planned observations. The planisphere is very easy to use: all you do is align the date on the star chart with a time on the viewer, and you will get an exact representation of the night sky. It is very reliable and will serve you for many years to come. | |
| | 5. Compass. People often forget how useful a compass can be during observations. Quickly orienting yourself in an unfamiliar place and determining where north is can be very easy with this compact compass. Easily locating the North Pole, Polaris and the Big Dipper will allow you to quickly begin your observations. | |
| | 6. Levenhuk Zoom Eyepiece. This is a wonderful eyepiece that can completely replace several eyepieces. By adjusting its focal length, you can change the highest practical power without having to replace the eyepiece. It allows you to enjoy planetary observations and forget about additional calibrations. | |
| | 7. Levenhuk Zongo Telescope Case. This case is made of a sturdy waterproof material, and the padded lining protects the telescope from impact. The case is also fitted with handle straps for easy transportation. | |
A great present for you and your friends!
These telescopes are packed in such bright and colorful boxes that they make a perfect gift!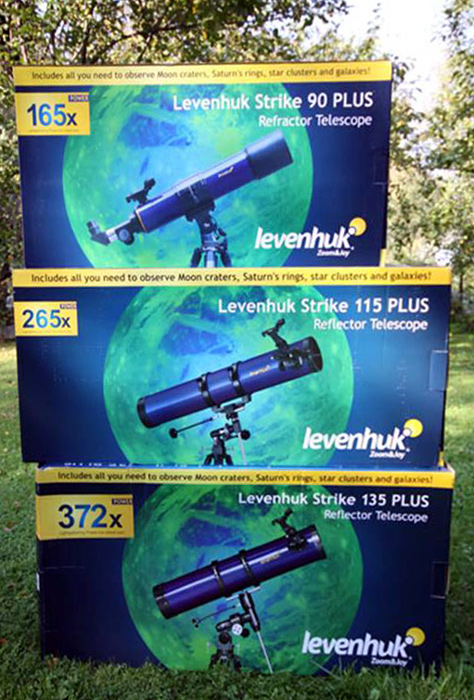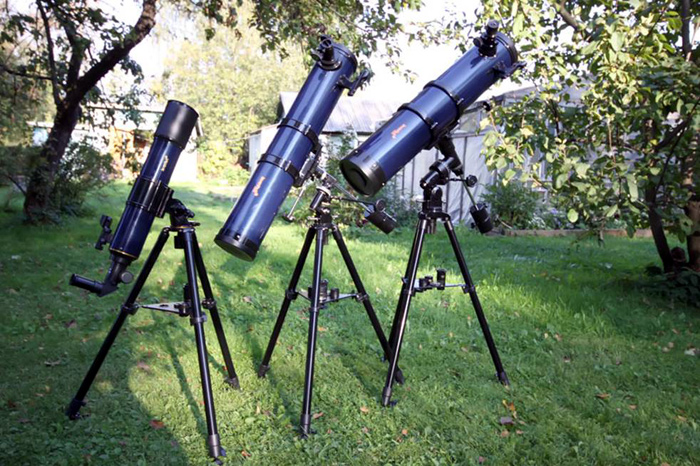 The series includes two Newtonian reflectors and one refractor.
So what are the differences between models?
Let's take a closer look at telescopes and their mounts.
Levenhuk Strike 135 PLUS:
Levenhuk Strike 115 PLUS: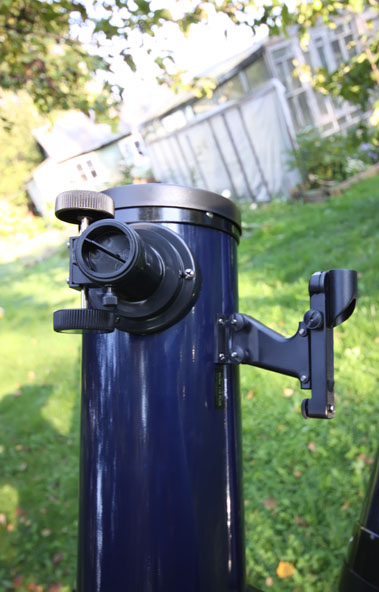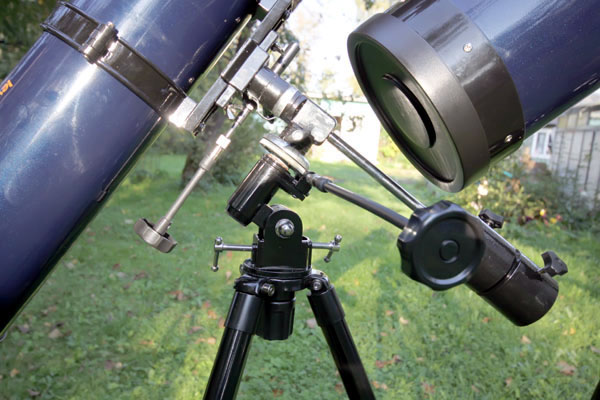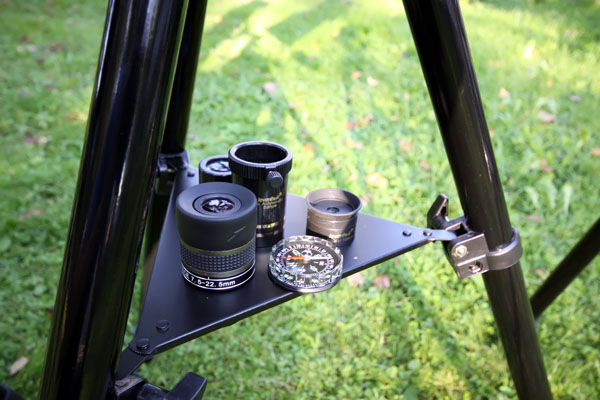 Levenhuk Strike 90 PLUS: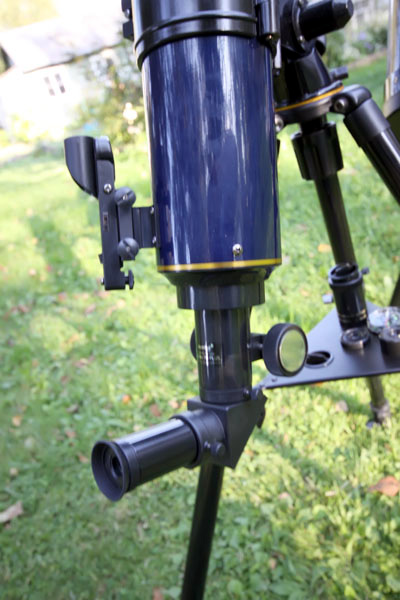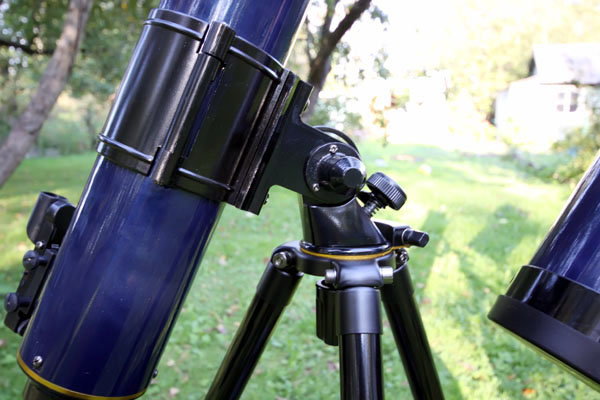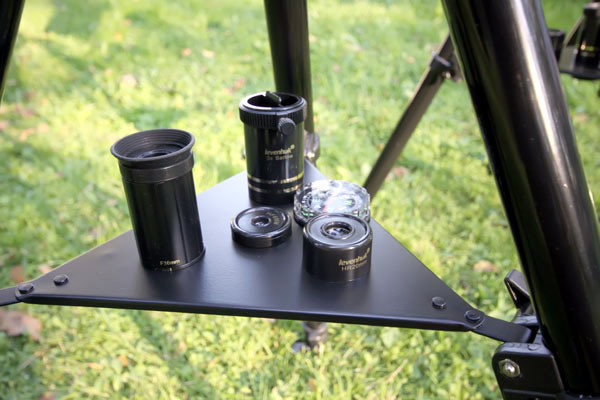 As you can see, telescopes feature different mount types. The most powerful and functional mount comes with Strike 135 PLUS telescope, senior model, which allows you to undertake the most serious observations. Optical tubes of reflecting models (Strike 115 PLUS and Strike 135 PLUS) are mounted on equatorial mounts, which with the addition of a clock drive allows you to capture stunning astronomical landscapes with a special digital camera for telescopes or a common SLR camera.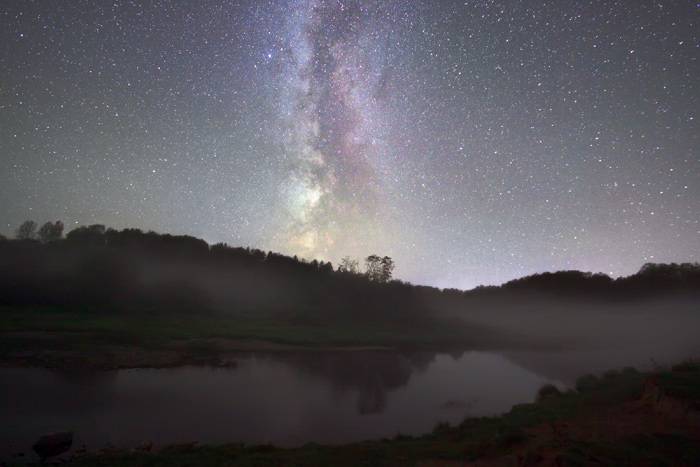 While reflectors are mounted on more advanced equatorial mounts, junior refracting model Strike 90 PLUS is designed for the youngest astronomer and therefore comes with an easy-to-use and lightweight azimuth mount. This mount is simple and weighs almost nothing, making Strike 90 PLUS a great grab-and-go instrument. Equatorial mounts are equipped with counterweights; that's why each reflector together with mount and tripod weighs an extra 11 pounds as compared to the assembled Strike 90 PLUS. All models in the series, refracting and reflecting, are equipped with rack-and-pinion focusers.
Now let's compare specifications and capabilities of telescope models in the series.
Levenhuk Strike PLUS Telescopes Comparison Table
Model

Levenhuk Strike
135 PLUS

Levenhuk Strike
115 PLUS

Optical design
Newtonian reflector
Newtonian reflector
refractor
Objective lens diameter (aperture)
135 mm
114 mm
90 mm
Focal length
900 mm
900 mm
600 mm
Optics coating
fully multi-coated
fully multi-coated
fully multi-coated
Focal ratio
f/6.7
f/10.78
f/6.7
Highest practical power
210x
157x
135x
Limiting stellar magnitude
12.75
12.4
11.87
Resolution threshold
0.86''
1.02''
1.29''
Focuser
rack-and-pinion, 1.25"
rack-and-pinion, 1.25"
rack-and-pinion, 1.25"
Eyepiece barrel diameter
1.25''
1.25''
1.25''
Eyepieces
KF 25, PL 10 mm, 7.5-22 mm
KF 25, PL 10 mm, 7.5-22 mm
H20, F6 mm, 6.5-21 mm
Barlow lens
2x
2x
3x
Diagonal prism
No
No
Yes
Finderscope
Red Dot
Red Dot
Red Dot
Mount
German equatorial EQ3
German equatorial EQ1
AZ
Tripod
steel
steel
steel
Package weight
32 lbs
32 lbs
19.9 lbs
Dimensions
38 x 19.1 x 12.8 in.
38.8 x 16.8 x 10.8 in.
15.7 x 7.9 x 31.5 in.
Levenhuk Strike PLUS Telescopes test
| | | | |
| --- | --- | --- | --- |
| Telescope model | Test images | Results | |
| Levenhuk Strike 135 PLUS | | Excellent | |
| Levenhuk Strike 115 PLUS | | Excellent | |
| Levenhuk Strike 90 PLUS | | Good | |
So which model to choose?
Your choice of the right model from this series should be directly related to your existing experience and skills of operating astronomy equipment, your desired observed objects and also your requirements for size and weight of the instrument.
Levenhuk Strike 90 PLUS is great for those who are looking for a very lightweight and easy-to-use telescope for visual observations. The short focal length of this model makes it especially useful when observing starfields. If you buy this telescope for your child, you certainly won't regret it, because the amazing views of the Moon, planets and stars are sure to capture your child's interest. One more advantage of this instrument is the ability to transform it into a powerful spotting scope with the addition of 45-degree erecting prism.
Levenhuk Strike 115 PLUS is designed for those who are taking their first steps in stargazing and is also recommended for teenagers interested in astronomy. Strike 115 PLUS model is only slightly less powerful than its older brother, Levenhuk Strike 135 PLUS. With this telescope you will be able to not only visually observe the Moon, Solar System planets and large globular clusters, but also capture amazing views of the night sky and try your hand in planetary astrophotography (note that additional equipment such as a telescope camera and motor drive are required).
Levenhuk Strike 135 PLUS is for those who want to get the most from their first telescope. This model is the largest Newtonian reflector in the series and equipped with a reliable and advanced EQ-3 equatorial mount. Visual observations with this instrument are not limited to just Solar System objects. With Strike 135 PLUS you will also be able to observe star clusters, nebulae, binary stars and comets. A large 135-mm primary mirror collects enough light to allow you to peak into even the farthest reaches of the universe. This telescope together with clock drive and camera for telescope is also able to open up an amazing world of planetary astrophotography for you. Even with just your SLR camera you will be able to capture the most beautiful night landscapes; for example, photos of the Milky Way are absolutely breathtaking.
Summary
Levenhuk Strike PLUS series is recommended for a wide range of amateur astronomers. Thanks to the extended kit of additional accessories, you will be able to start observations right away. These telescopes are a great choice for ambitious beginners who strive to get the best observational experience without wasting any time.
---
Any reproduction of the material for public publication in any information medium and in any format is prohibited. You can refer to this article with active link to levenhukb2b.com.
The manufacturer reserves the right to make changes to the pricing, product range and specifications or discontinue products without prior notice.